Pojo's Yu-Gi-Oh News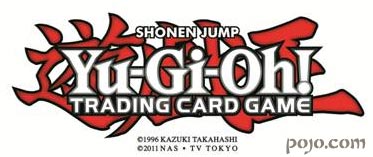 KONAMI DIGITAL ENTERTAINMENT PRESENTS Yu-Gi-Oh! TRADING CARD GAME PRODUCTS AT
GAME MANUFACTURERS ASSOCIATION TRADE SHOW
EL SEGUNDO, CA (March 18, 2013) – Konami Digital Entertainment, Inc. (Konami) is once again pleased to support the Game Manufacturers Association's (GAMA) annual tradeshow (GTS) as a returning sponsor. The company will be exhibiting its broad portfolio of Yu-Gi-Oh! TRADING CARD GAME (TCG) products in the Konami booth (#207) from March 20th - 21st at Bally's in Las Vegas, Nevada.
"Right out of the gate, our January and February releases set the stage for a promising 2013. We are excited to share more of our 2013 Yu-Gi-Oh! TRADING CARD GAME releases and brand plans with our hobby customers," says Yumi Hoashi, Vice President, Card Business for Konami Digital Entertainment, Inc. "GTS is the perfect forum to not only discuss the industry as a whole, but it also gives us an opportunity to address the specific category needs with our retail and distribution partners. In addition, for those customers wanting more information on becoming an Official Tournament Store (OTS), we will be hosting an informational seminar outlining the benefits of our Organized Play programs," added Hoashi.
As a follow-up to the successful January launch of Cosmo Blazer, the raging fire continues as Cosmo Blazer Special Edition is released on March 22nd. This Special Edition gives Duelists a second chance to get their hands on the year's first set, Cosmo Blazer. Each Cosmo Blazer Special Edition contains three booster packs, plus one of two Super Rare cards, all for an MSRP of $9.99 each.
Retailers will want to stock the shelves for Spring as the extensive cache of cards gets even stronger on April 19th when Hidden Arsenal 7: Knight of Stars marches into battle. Setting the stage for Hidden Arsenal's climactic final battle between light and darkness, Knight of Stars features an extremely powerful 70-card all-foil set, the most potent Hidden Arsenal set to date. Gem-Knight, Gishki, Gusto and Laval Monsters give Duelists some extra battling power for the upcoming Tournament season. MSRP of $3.99 per pack.
Duelists will also want to get their hands on the May product releases, starting with the mighty 100-card booster set Lord of the Tachyon Galaxy, which introduces Number 107: Galaxy Eyes Tachyon Dragon, plus new cards for Fire Fist, Mermail and Spellbook Decks! Each nine-card pack will sell for an MSRP of $3.99.
To protect and show off all those new cards, players will want to get the perfect accessory, Zexal Card Sleeves, also available in May. Zexal Card Sleeves feature images from the new Yu-Gi-Oh! ZEXAL animated series and at an MSRP of $3.99, these 50-card sleeves per pack make it an easy and affordable way to safeguard treasured cards.
Stores will need to prepare for a flurry of freshman players in June as Konami is set to introduce the Super Starter: V for Victory*, a perfect item for first-time Yu-Gi-Oh! TRADING CARD GAME players. The Super Starter features a new configuration, as the Deck comes with two, five-card power-up packs. Easy to learn and fun to play, Super Starter: V for Victory is ready to play right out of the box. With Spells, Traps and powerful cards, this is a must-have for budding Duelists and is a great value at MSRP of $12.99.
With plenty of opportunities to play during the summer months be it at a tournament, convention or a casual game with friends, players will want to go to their local store to pick-up some extra Dueling power. In June, Battle Pack 2 will help players do just that. Battle Pack 2, MSRP $1.99 per pack, is designed specifically for sealed pack play – just get together with friends (or rivals!) and split up an even number of packs. Open the packs, make brand new Decks from those cards, and start Dueling!
Rounding-out the summer will be an August introduction of another booster set, Judgment of the Light. This new 100-card set brings back Synchro Monsters that are stronger than ever! This set also introduces Number 39: Utopia Ray Victory and is offered at MSRP: $3.99 per pack.
For items marked with an asterisk, please note that title, packaging, contents and price are subject to change.