Pojo's Yu-Gi-Oh News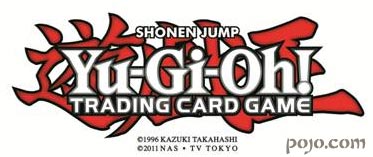 KONAMI DIGITAL ENTERTAINMENT TURNS UP THE HEAT WITH THE Yu-Gi-Oh! TRADING CARD GAME
ONSLAUGHT OF THE FIRE KINGS STRUCTURE DECK
El Segundo, CA (February 7, 2013) – The raging fires of the Yu-Gi-Oh! TRADING CARD GAME (TCG) get hotter and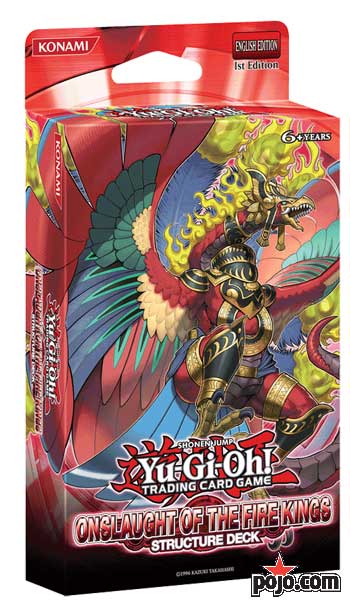 hotter with the arrival of Onslaught of the Fire Kings Structure Deck from Konami Digital Entertainment, Inc. (Konami). This ready to play Deck blazes into stores nationwide on February 8th.
With four new Monster cards and two new extraordinary Spell cards, Duelists now have that extra spark needed to build a FIRE-themed Deck based on the renewing flames of the Phoenix. Players can also Special Summon the new Fire King High Avatar Garunix card and unleash the sacred fires of victory!
The Onslaught of the Fire Kings Structure Deck is a 40-card Deck ready to play right out of the box so Duelists can immediately heat things up and customize their Deck. Many of these cards also work well with cards found in the Cosmo Blazer booster set, released in January. Cards like Bonfire Colossus and Kickfire allow Duelists a chance to enhance their Deck's strategy beyond measure by burning their opponent's Life Points directly.
Onslaught of the Fire Kings also includes many awesome cards such as Phoenix Wing Wind Blast and Pot of Duality that are great additions to Decks Duelists might already play.

Available February 8th, Onslaught of the Fire Kings Structure Deck (MSRP: $9.99) contains:

37 Common cards
1 Ultra Rare cards
2 Super Rare cards
1 Rulebook
1 Game Mat
1 Dueling Guide