Pojo's Yu-Gi-Oh News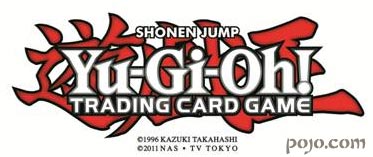 KONAMI DIGITAL ENTERTAINMENT PREVIEWS Yu-Gi-Oh! TRADING CARD GAME PRODUCTS AT AMERICAN INTERNATIONAL TOY FAIR
EL SEGUNDO, CA (February 10, 2013) – Konami Digital Entertainment, Inc. (Konami) is once again presenting its broad portfolio of Yu-Gi-Oh! TRADING CARD GAME (TCG) products at this year's American International Toy Fair at the Jacob K. Javits Convention Center in New York City from February 10th-13th. Products scheduled for release through August 2013 will be on display in the Konami booth #4816.
"Attending Toy Fair lets us engage our customers in a face-to-face environment making it the ideal place to highlight our Yu-Gi-Oh! TRADING CARD GAME releases for the first half of the year. Our 2013 line-up was developed with both new players and seasoned Duelists in mind," said Yumi Hoashi, Vice President of Card Business for Konami Digital Entertainment, Inc.
The first Structure Deck of the year, Onslaught of the Fire Kings, made its debut last week giving Duelists a ready to play 40-card Deck which they can play right out of the box, or use the cards to create and customize their own Deck. With four new Monster cards and two extraordinary Spell cards, Duelists now have that extra spark to build a FIRE-themed Deck. Special Summon Fire King High Avatar Garunix and unleash the sacred fires sealing the victory! Many of these cards also work well with cards found in the Cosmo Blazer booster set, released in January. Onslaught of the Fire Kings Structure Deck is available for MSRP of $9.99 per Deck.
In celebration of the new Yu-Gi-Oh! ZEXAL animated series; an all-foil set will hit shelves on March 8th with the release of the Zexal Collection mini-tin featuring previously unreleased cards used by Yuma and Kite. Each Zexal Collection comes with three Ultimate Rare variants of existing cards, plus 11 all-new cards from a special, 21-card set each with a power level that is out-of-this-world! Each 14-card mini-tin will be available for MSRP of $9.99.
The raging fire continues as Cosmo Blazer Special Edition is unveiled on March 22nd. This Special Edition gives Duelists a second chance to get their hands on the year's first set, Cosmo Blazer. Each Cosmo Blazer Special Edition contains three booster packs, plus one of two Super Rare card, one of which is a special championship-level card all for MSRP of $9.99 each.
The extensive cache of cards gets even stronger on April 19th when Hidden Arsenal 7: Knight of Stars marches into battle. Setting the stage for Hidden Arsenal's climatic final battle between light and darkness, Knight of Stars features an extremely powerful 70-card all-foil set, the most potent Hidden Arsenal set to date. Gem-Knights, Gishki, Gusto and Laval Monsters gives Duelists some extra battling power for the upcoming Tournament season. MSRP of $3.99 per pack.
Duelists will also want to get their hands on the May product releases, starting with the mighty 100-card booster set Lord of the Tachyon Galaxy; which introduces Number 107: Galaxy Eyes Tachyon Dragon plus new cards for Fire Fist, Mermail and Spellbook Decks! Each nine-card pack will sell for an MSRP of $3.99.
To protect and show off all those new cards, players will want to get the perfect accessory, Zexal Card Sleeves, also available in May. Zexal Card Sleeves feature images from the new Yu-Gi-Oh! ZEXAL animated series and at an MSRP of $3.99, these 50-card sleeves per pack make it an easy and affordable way to safeguard treasured cards.
In June, Konami is set to introduce the Super Starter*, a perfect item for first-time Yu-Gi-Oh! TRADING CARD GAME players. The Super Starter features a new configuration, as the Deck comes with two, five-card expansion packs. Easy to learn and fun to play, Super Starter is ready to play right out of the box. With Spells, Traps and powerful cards, this is a must-have for budding Duelists and is a great value at MSRP of $12.99.
With plenty of opportunities to play during the summer months be it at a tournament, convention or a casual game with friends, players will want to go to their local store to pick-up some extra Dueling power. In June, Battle Pack 2 will help players do just that. Battle Pack 2, MSRP $1.99 per pack, is designed specifically for sealed pack play – just get together with friends (or rivals!) and split up an even number of packs. Open the packs, make brand new Decks from those cards, and start Dueling!
Rounding-out the summer will be an August introduction of another booster set, Judgment of the Light, This new 100-card set brings back Synchro Monsters that are stronger than ever! This set also introduces Number 39: Utopia Ray Victory and is offered at MSRP: $3.99 per pack.