Pojo's Yu-Gi-Oh News
Yu-Gi-Oh! HeroClix Exclusive Preview:
Catapult Turtle
December 11, 2013
Greetings Yu-Gi-Oh! Fans!
Catapult Turtle begins play taking itself to battle with a printed 7 range and Running Shot. However, if you prefer to keep it out of the danger zone, an effective way to use the Catapult Turtle's dial is to have an adjacent friendly character make a range attack, increasing their damage thanks to Enhancement.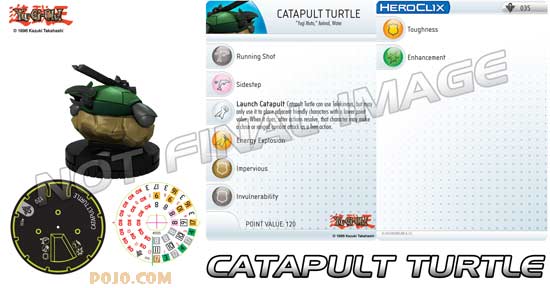 And if that friendly character using the Catapult Turtle's Enhancement is less points than it, the Catapult Turtle can use its special power called Launch Catapult, to move that friendly figure with Telekinesis. Once the action is complete, that character may make a ranged or close combat attack as a free action.
This combination of powers will last for the first three clicks of his dial, with its Launch Catapult special power staying a click longer. An opening click of Impervious will allow Catapult Turtle to reduce, if not avoid damage altogther, before switching to Invulnerability (which reduces damage dealt to Catapult Turtle by two) for a few clicks.
Midway into its dial, Catapult Turtle gains the ability to Sidestep up to two squares as a free action. Energy Explosion will let it do one click of damage to any figures adjacent to the target of its ranged combat attacks. And Toughness will damage dealt to it by one for most of the rest of its dial.
Catapult Turtle possesses the Swimmer combat ability, allowing it to ignore water terrain for movement purposes. It can be played on theme teams build using his "Yugi Muto," Animal, and Water keywords. At 120 points, Catapult Turtle brings consistent combat values and the ability to break through opposing damage reducers on every click, and its ability to "catapult" a friendly figure into battle will definitely help control the battle field.
We hope you've enjoyed this special exclusive preview from the upcoming Yu-Gi-Oh! HeroClix: Series One set from WizKids Games. Due out in February 2014, the Yu-Gi-Oh! HeroClix: Series One gravity feed set will feature more than 50 figures to collect, and will be available in game stores everywhere!