Pojo's Yu-Gi-Oh News
<![if !vml]>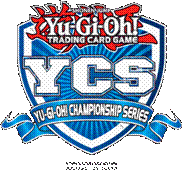 <![endif]>
MARQUIS HENDERSON CAPTURES CHAMPION TITLE AT
FIRST NORTH AMERICAN Yu-Gi-Oh! CHAMPIONSHIP SERIES OF 2012
El Segundo, CA (February 23, 2012) – The field swelled to nearly 1400 competitors at this past weekend's Yu-Gi-Oh! CHAMPIONSHIP SERIES (YCS), held at the Georgia International Convention Center, the first North American YCS of the year. Of the hundreds of Duelists from the mid-Atlantic region and beyond, it was first-time YCS participant Marquis Henderson that deftly navigated the two-days of demanding head-to-head play to be crowned Champion at this premier-level Yu-Gi-Oh! TCG event from Konami Digital Entertainment (Konami). In addition, young Nicolas Scott and Oliver Tomajko won the Dragon Duel (for Duelists aged 12 and under) earning them an invitation to the Dragon Duel World Championship Qualifier to be held later this year.
The energy level was high at Saturday's First Round, as many Duelists were trying-out new Decks and strategies developed over the winter months in preparation for YCS Atlanta. By Sunday, the vibe was much more intense as the stakes grew higher with each passing Round. The Final Round paired a confident Henderson, age 16, from Lawrenceville, Georgia against a worthy opponent, Hialeah, Florida's 24-year-old Roman Rodriguez. Playing with a Dino Rabbit Deck, Rodriguez set the bar high with his opening move. Relying on his seasoned T.G. Deck, Henderson was optimistic that a win was within reach. And it was – after a fierce and sometimes exhaustive Round, Henderson emerged victorious.
In addition to the title of Champion, Henderson earned an amazing set of prizes that included an Ultra Rare YCS Blood Mefist Prize Card, an exclusive YCS Game Mat, an invite to play in the 2012 World Championship Qualifier tournament and much more!
The Dueling was no less intense for the 12 and under set as Nicolas Scott from Chantilly, Virginia and Oliver Tomajko from Croton-on-the Hudson, New York expertly battled their opponents on Saturday and Sunday respectively, to receive a special Dragon Duel Champion's Medal and an invitation to play in the Dragon Duel World Championship Qualifier, where they can earn an invitation to the inaugural Dragon Duel World Championship to be played at the Yu-Gi-Oh! World Championships this summer. Both also won a 2012 Regional Game Mat, a Dragon Duel T-Shirt and more fun prizes.