Pojo's Yu-Gi-Oh News
<![if !vml]>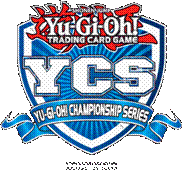 <![endif]>
Yu-Gi-Oh! CHAMPIONSHIP SERIES TACOMA CROWNS MICHAEL STIBBINS CHAMPION
El Segundo, CA (November 27, 2012) – As Yu-Gi-Oh! TRADING CARD GAME (TCG) players gathered in Tacoma last weekend; it was evident that the competition was going to be as fierce as the Northwest weather and contenders unrelenting at this final Yu-Gi-Oh! CHAMPIONSHIP SERIES (YCS) event of 2012. Methodically outplaying his peers was Michael Stibbins, who deftly advanced round after round at this premier Yu-Gi-Oh! TCG event hosted by Konami Digital Entertainment, Inc. (Konami).
Yu-Gi-Oh! TCG Duelists began Saturday morning in the First Round, carefully testing strategies and long-honed skills, all hoping to advance to Sunday's Final Round. However, it was Stibbins and Norberto Leon that expertly squared off against each other Sunday afternoon.

Leon, from Los Angeles, California, took to the table with his trusted Mermail Atlantean Deck as Mukilteo, Washington's Stibbins relied on his Inzektor Deck. As the crowd watched with keen interest, play steadily continued, each competitor using all his Yu-Gi-Oh! TCG knowledge and expertise. After an exciting series of tug-of-war Duels, Stibbins cut loose an Inzektor Sword which was the final and ultimate demise for Leon.
Stibbins received and Ultra Rare Digvorzhak, King of Heavy Industry YCS Prize Card; a trophy; paid travel to his World Championship Qualifier and some other awesome prizes.
Additionally, on Saturday, and on Sunday Marion Smith IV from Joint Base Lewis McChord in Washington won the Dragon Duel (for Duelists born 2000 or later) showing incredible Dueling skill outplaying his Yu-Gi-Oh! TCG peers, not once but twice! He earned a special Dragon Duel Champion's Medal, a Regional Game Mat, a Dragon Duel T-Shirt, and an invitation to his region's 2013 Dragon Duel World Championship Qualifier, where he can earn an invitation to the second annual Dragon Duel World Championship to be played at the Yu-Gi-Oh! World Championship in August 2013.