Pojo's Yu-Gi-Oh News
<![if !vml]>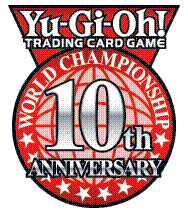 <![endif]>
THE WORLD'S BEST Yu-Gi-Oh! TRADING CARD GAME PLAYERS TO CONVERGE IN TOKYO, JAPAN TO DUEL FOR THE TITLE OF WORLD CHAMPION
El Segundo, CA (August 7, 2012) – Elite Duelists from all over the world will gather in Tokyo, Japan on August 11-12 at the Yu-Gi-Oh! TRADING CARD GAME (TCG) World Championship for the opportunity to attain the title of "King of Games." This event is especially significant as 2012 marks the 10th Anniversary for the Yu-Gi-Oh! TCG World Championship.
The field of 26 contestants vying for the crown includes six players from North America, two players from Latin America, five players from Japan, six from Europe and Oceania, and seven from other Asian countries. These 26 players competed at their National or Continental Qualifiers and have earned the right to represent their region in Tokyo. Each one believes that they possess the right combination of cards and strategy to ultimately clench Yu-Gi-Oh! TCG's highest honor.
The weekend will be filled with plenty of paramount Dueling action as the best in the world have assembled to challenge one another with tried and true Decks that got them to the finals and to even unleash new strategies to counter and impede their opponents' planned onslaught. The action is sure to be fast and furious as each Duelist only has one goal: to reign supreme as the Yu-Gi-Oh! TCG World Champion.
A player from the United States has never brought home the big prize, but this year feels different as Tyler Tabman (the North American Champion) from Kansas, Robert Lewis Jr. from Kentucky, Jarel Winston from New York, Kevin Rubio from New Jersey, Adrian Shakir from Colorado, and Micheael Steinman from Iowa form the greatest chance in years for the United States to win the title. Using all of their skill, creativity and strategy, each Duelist offers different strengths from Deck-building, the ability to switch gears in-match to being able to use their Side Deck successfully. The heat will be on!
For the first time ever, the Yu-Gi-Oh! TCG will also be holding a Dragon Duel World Championship (for Duelists born 1999 or later) the same weekend. Two North American Dragon Duelists and two Latin American Dragon Duelists will join eight others from across the globe in intense competition for the title of 2012 Yu-Gi-Oh! TCG Dragon Duel World Champion.
Watch it live! Streaming footage on Ustream of the World Championship finals! Please check this out if you cannot attend! http://www.ustream.tv/channel/yu-gi-oh-wcs2012-en