Pojo's Yu-Gi-Oh News
<![if !vml]>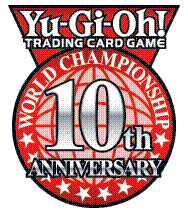 <![endif]>
AKIKAZU SAITO NAMED Yu-Gi-Oh! TRADING CARD GAME WORLD CHAMPION IN TOKYO, JAPAN
El Segundo, CA (August 20, 2012) – The top 25 Duelists from around the world met in Tokyo, Japan to face off against each other for the once-in-a-lifetime chance to be named Yu-Gi-Oh! TRADING CARD GAME (TCG) World Champion. In the event's 10th Anniversary, it was Osaka, Japan's Akikazu Saito, that reigned supreme, separating himself from the rest of the pack to claim the highest honor awarded to a Duelist. Saito was not the only champion crowned in Tokyo as Yu Hau Liou, 12 years old, from Taiwan, emerged as the inaugural Yu-Gi-Oh! TCG Dragon Duel World Champion. Next year, the Dragon Duel World Championship will feature the top Duelists born in 2000 or later. Both Saito and Liou return to their respective countries with the title of World Champion.
In the main event, Saito successfully overthrew opponent after opponent with his Inzektor Deck. In the end, he faced off against Stefano Memoli, from Italy who played a Wind-Up Deck in the final match. Memoli presented Saito with challenge after challenge but was unable to overturn the final Duel, as Saito deftly controlled his Deck and opponent. In a flash, it was all over, with Saito defeating Memoli to put away any doubts who should be crowned 2012 Yu-Gi-Oh! TCG World Champion.

In the Dragon Duel World Championship, Liou played a Dino Rabbit Deck with so much skill for such a young Duelist, as he navigated the field of 12 Dragon Duel finalists to arrive at the final table against Japan's Toya Minami, 11 years old. Minami was just as successful with his Inzektor Deck that it was anybody's guess who would triumph as the final match began. Fortunately for Liou, his Dino Rabbit Deck played favorably against Minami's Deck and Liou emerged victorious after an exciting match to be named the first-ever Yu-Gi-Oh! TCG Dragon Duel World Champion.