Pojo's Yu-Gi-Oh News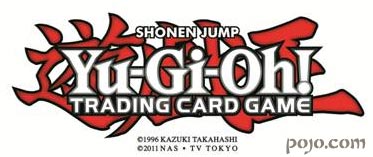 The Yu-Gi-Oh! TRADING CARD GAME COLLECTIBLE TINS ARE POISED TO FLY OFF STORE SHELVES THIS FALL
First two tins of 2012!
El Segundo, CA (July 26, 2012) – Konami Digital Entertainment, Inc. (Konami), the maker of the global sensation, the Yu-Gi-Oh! TRADING CARD GAME (TCG), is once again ready to release their much-anticipated Collectible Tins. On August 14th, the first two tins, the Evolzar Dolkka Collectible Tin and the Heroic Champion - Excalibur Collectible Tin will both be available at retailers nationwide. Offering five booster packs plus five foil variant cards, these tins are perfect for new players or for the veterans looking to fill out their collection and are a fantastic value for any fan!
Evolzar Dolkka headlines this year's first Collectible Tin. Initially making its debut in Photon Shockwave, Dolkka and his twin tyrant of terror, Evolzar Laggia, have brought their own brand of autocratic annihilation to the Dueling universe! Created by using two Dinosaurs as Xyz Materials, Evolzar Dolkka can negate and destroy any opposing monster that activates its effect. Combined with Evolzar Laggia (which negates Summons, Spells, and Traps) these dynastic despots can shut down any strategy.
(Below)
Heroic Champion - Excalibur heralds the second of this year's Collectible Tins. Heroic Champion monsters are available in Return of the Duelist packs. These Warriors are experts at pumping up their Attack Points, and none of them do it better than Excalibur, who can detach his Xyz Materials to double his ATK to 4000!
Both the Evolzar Dolkka Collectible Tin and the Heroic Champion - Excalibur Collectible Tin also include Wind-Up Zenmaines. This popular Rank 3 Xyz Monster is a powerful defensive line for any Deck. If it would be destroyed, a player can just detach an Xyz Material instead. What really makes Zenmaines an all-star is that at the end of any turn in which it is saved from destruction using its effect, it also gets to destroy one card on the field! Each tin also contains three Photon Shockwave Packs, two Galactic Overlord Packs, four Super Rare Cards and one Secret Rare Card all for an MSRP of only $19.99 each.
(Below)