Pojo's Yu-Gi-Oh News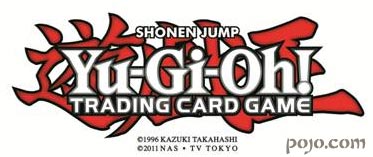 Yu-Gi-Oh! TRADING CARD GAME BOOSTER SET, RETURN OF THE DUELIST INCLUDES 100 BRAND NEW CARDS
El Segundo, CA (July 24, 2012) – As the summer comes to an end and as Duelists gear up for the fall, Konami Digital Entertainment, Inc. (Konami) will be introducing Return of the Duelist, a brand new booster set with all new themes for the Yu-Gi-Oh! TRADING CARD GAME (TCG). On August 28th, Return of the Duelist will hit store shelves across North America, bringing giant robots, time-warped technology, ancient seers, and flying dessert castles to a Dueling table near you!
Duelists looking to improve their victory outlook should pack their Decks full of Prophecy monsters. These sage Spellcasters command the power of the Spellbook cards, giving their wielder mastery over Power, Life, Wisdom, and Secrets. For the more mechanically inclined Duelist, Return offers up the Geargia monsters. Led by the stylin' Gear Gigant X, these new Machines clean up the streets with incredible combination attacks. Additionally, Duelists looking to lay a strong foundation for their Decks can look forward to powerful EARTH monsters like Silver Sentinel and Grandsoil the Elemental Lord.
Duelists looking to get a jump start on incorporating these cards into their Deck should stop by their local Official Konami Tournament Store to attend special Sneak Peek events taking place August 18-19.
Return of the Duelist contains 100 cards (MSRP: $3.99 per 9-card pack):
48 Common Cards
20 Rare Cards
14 Super Rare Cards
10 Ultra Rare Cards
8 Secret Rare Cards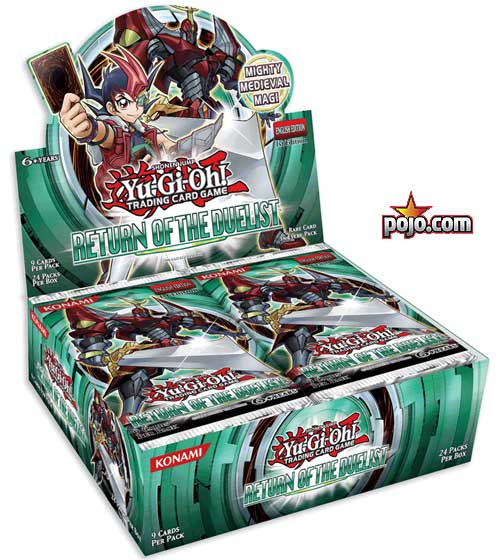 Every Saturday morning, Duelists can watch the all-new Yu-Gi-Oh! ZEXAL animated series as well as classic Yu-Gi-Oh! episodes on TheCW4Kids programming block, the leading Saturday morning kids broadcast network in the United States. In Canada, Duelists can watch episodes of Yu-Gi-Oh! ZEXAL every Friday and Saturday on YTV! Fans can also view their favorite Yu-Gi-Oh! episodes at www.CW4Kids.com.
For more information on Konami or the Return of the Duelist booster set, please visit www.yugioh-card.com or call 310-220-8630.