Pojo's Yu-Gi-Oh News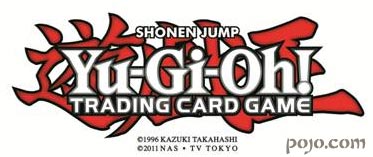 TYLER TABMAN TO REPRESENT NORTH AMERICA AFTER VICTORY AT Yu-Gi-Oh! TRADING CARD GAME CHAMPIONSHIP IN COLUMBUS, OHIO
El Segundo, CA (July 2, 2012) – The Buckeye State's Discovery City hosted more than 1,600 elite Duelists, from all over the United States and Canada, who converged at the Greater Columbus Convention Center in Columbus, Ohio with anticipation and a determination to win. The Duelists made the journey to Columbus with the sole ambition of Dueling for top honors at the invite-only North American World Championship Qualifier (WCQ) for the Yu-Gi-Oh! TRADING CARD GAME (TCG), hosted by Konami Digital Entertainment, Inc. (Konami). After a weekend of many arduous battles it was Tyler Tabman (below), age 17, from Overland Park, Kansas who emerged triumphant at the premier Yu-Gi-Oh! TCG event.
After an exciting weekend of first-rate Duels from the best North America had to offer, Tabman defeated Robert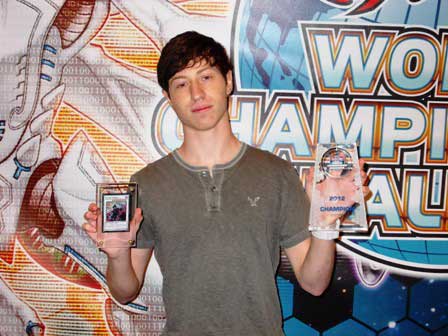 Lewis, Jr. from Mt. Sterling, Kentucky to earn the title of North American Champion. Tabman and Lewis outmaneuvered their opponents round after round to reach the finals. Lewis tenaciously strategized attacks with his Wind-Up Deck, in hopes of hindering Tabman's approach with his Wind-Up Deck with Instant Fusion. But, at the Final Round Table Tabman bested Lewis's Deck with his Dark Hole, Wind-Up Hunter, Wind-Up Shark as the fundamental cards that turned the tide to his benefit and catapulted him to be named the 2012 North American Champion. Tyler Tabman will be representing North America at the Yu-Gi-Oh! TCG World Championship in Tokyo, Japan August 11-12 and also collects many additional outstanding prizes.

The weekend also saw another exceptional Duelist win the right to represent North America in Tokyo. Tyler Nilson (below), from North Port, Florida, won the North American Dragon Duel Championship (for Duelists born 1999 or later) skillfully ousting his Dragon Duel opponents with his Dino Rabbit Deck to acquire one of the coveted invitations to the first ever Dragon Duel World Championship. Along with a tremendous opportunity to travel to Tokyo he took home an amazing prize pack that includes a complete set of Galactic Overlord and a Super Rare Blood Mefist Yu-Gi-Oh! Championship Series Prize Card.
Making the voyage to Tokyo for the 2012 Yu-Gi-Oh! TCG World Championship Tournament will be Tyler Tabman accompanied by North American WCQ Top Ranking Players, Robert Lewis, Jr, Jarel Winston, Kevin Rubio, Adrian Shakir, Michael Steinman; and for the Dragon Duel World Championship, Tyler Nilson and Runner Up, Zachary Leverette.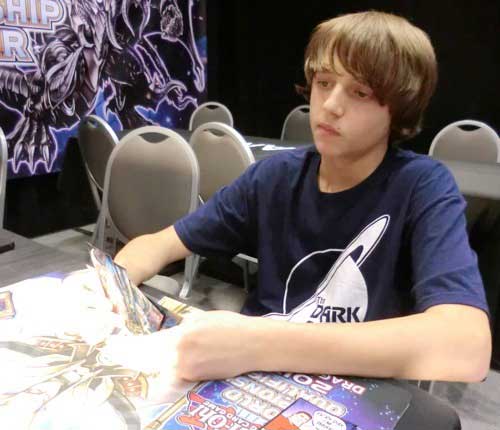 Every Saturday morning, Duelists can watch the all-new Yu-Gi-Oh! ZEXAL animated series as well as classic Yu-Gi-Oh! episodes on TheCW4Kids programming block, the leading Saturday morning kids broadcast network in the United States. In Canada, Duelists can watch episodes of Yu-Gi-Oh! ZEXAL every Friday and Saturday on YTV! Fans can also view their favorite Yu-Gi-Oh! episodes at www.CW4Kids.com.