Pojo's Yu-Gi-Oh News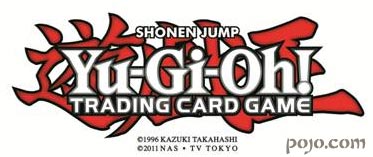 A NEW NORTH AMERICAN Yu-Gi-Oh! TRADING CARD GAME CHAMPION WILL EMERGE IN COLUMBUS, OHIO
El Segundo, CA (June 28, 2012) – After months of qualifying play, it will come down to the weekend of June 29 - July 1 for one Duelist to walk away with the title of Yu-Gi-Oh! TRADING CARD GAME (TCG) North American Champion at the North American World Championship Qualifier (WCQ). Hosted by Konami Digital Entertainment, Inc. (Konami), this invite-only tournament is expected to draw well over one thousand enthusiastic Duelists from across the United States and Canada to the Greater Columbus Convention Center. The winner will earn the right to represent the region at the Yu-Gi-Oh! TCG World Championship in Tokyo, Japan August 11 – 12.
The weekend will be filled with a ton of Dueling as players who have not yet earned an invite can play in Last Chance Qualifying events on Friday, June 29. In the Main Event WCQ, starting on Saturday June 30, the preeminent Duelists in North America will be playing intense head-to-head Duels, mindful that one misplay can eliminate them from the top prize. Duelists that display the most skill will make it to the second day of WCQ Single-Elimination Rounds on Sunday. Ultimately every Duelist hopes to make it to the Final Round table for the opportunity to play, and to win the coveted title of North American Yu-Gi-Oh! TCG Champion.
Konami is proud to also host, for the first time ever, the North American Dragon Duel Championship, open to Duelists born 1999 or later to be held during the North American WCQ. The winning Dragon Duelist and runner-up will also win a trip to Tokyo to play against the top Dragon Duelists around the world in the inaugural Dragon Duel World Championship.
Additionally, Duelists can participate in a wide variety of fun and challenging Public Events to push their Dueling skills to the limit! Konami will be conducting a host of events such as Regional Qualifiers, 3 vs. 3 Team Dueling, ATTACK OF THE GIANT CARD!!, Win-A-Mats, Classic Drafts, Retro Drafts, and the newest Sealed Pack Tournaments for Battle Pack: Epic Dawn featuring exclusive Starfoil prize cards only available at premier events.
And this year, attendees can create their own exclusive one-of-a-kind Yu-Gi-Oh! Token Card through the use of green screen technology. They can choose from five different card backgrounds with characters, including favorites like Yusei Fudo, Kaiba Seto and Yuma Tsukumo, to create their own personalized Token Card – suitable for use during Duels! Duelists can also create their own COSSY ID card needed for tournament play.
In addition, Konami is bringing a special treat for attendees, in what is sure to be an autograph seekers' dream come true! Greg Abbey the voice actor of Yusei Fudo from Yu-Gi-Oh! 5D's and Tristan Taylor from the original Yu-Gi-Oh! series will be lending his autographs to fans' Stardust Dragon cards throughout the event. Also for the first time ever at a Yu-Gi-Oh! event, Eric Stuart the voice actor of Seto Kaiba (original Yu-Gi-Oh! series) will also be signing autographs. Rounding out the star studded cast of fan favorites, Wayne Grayson who voiced Joey Wheeler (Classic Yu-Gi-Oh!) and Syrus Truesdale (GX) will be on hand to meet his fans and sign their Yu-Gi-Oh! cards.
Event Address:
Greater Columbus Convention Center
Battelle Grand Ballroom (Main Event)
Terrace Ballroom 4&5 (Dragon Duel WCQ & Public Events)
400 North High Street
Columbus, OH 43215
North American WCQ Prize Information:
The Top 6 players will receive travel and accommodations to Tokyo, Japan to play in the Yu-Gi-Oh! World Championship, complete set of Order of Chaos and Galactic Overlord, Super Rare Yu-Gi-Oh! Championship Series (YCS) Prize Card: Blood Mefist, Tablet PC, Personalized Jersey

The Top 8 players will receive a Championship Trophy

The Top 32 players will receive a Super Rare Blood Mefist – YCS Prize Card

The Top 64 will receive a WCQ Top Cut Game Mat

All participants will receive a 2012 WCQ Game Mat and a pack of 2012 WCQ Card Sleeves.
In addition to the prizes listed above, the top finishers will also receive these prizes:
1st place – 18 packs each of Generation Force, Photon Shockwave, Order of Chaos, and Galactic Overlord
2nd place – 12 packs each of Generation Force, Photon Shockwave, Order of Chaos, and Galactic Overlord
3rd & 4th place – 9 packs each of Generation Force, Photon Shockwave, Order of Chaos, and Galactic Overlord
5th – 8th place – 6 packs each of Generation Force, Photon Shockwave, Order of Chaos, and Galactic Overlord
9th – 16th place – Complete Set of Galactic Overlord, 6 packs each of Generation Force, Photon Shockwave, Order of Chaos, and Galactic Overlord
North American Dragon Duel Championship Prize Information:
Additionally, the top finishers will also receive these prizes:
1st place – Invite to Dragon Duel World Championship with travel and accommodations for player and guardian, Complete Set of Order of Chaos and Galactic Overlord, Super Rare Blood Mefist – YCS Prize Card, 64GB Tablet PC, and a personalized jersey plus 12 packs each of Generation Force, Photon Shockwave, Order of Chaos, and Galactic Overlord
2nd place – Invite to Dragon Duel World Championship with travel and accommodations for player and guardian, Complete Set of Order of Chaos and Galactic Overlord, Super Rare Blood Mefist – YCS Prize Card, 64GB Tablet PC, and a personalized jersey plus 9 packs each of Generation Force, Photon Shockwave, Order of Chaos, and Galactic Overlord
3rd & 4th place – 6 packs each of Generation Force, Photon Shockwave, Order of Chaos, and Galactic Overlord
5th – 8th place – 3 packs each of Generation Force, Photon Shockwave, Order of Chaos, and Galactic Overlord
9th – 16th place – Complete Set of Galactic Overlord