Pojo's Yu-Gi-Oh News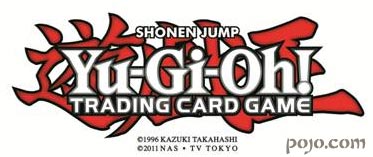 HIDDEN ARSENAL 6: OMEGA XYZ IS THE FIRST Yu-Gi-Oh! TCG SET TO INCLUDE ALL MONSTER TYPES
El Segundo, CA (June 19, 2012) – The Yu-Gi-Oh! TRADING CARD GAME (TCG) presented by Konami Digital Entertainment, Inc. (Konami) has introduced more than five different types of monster cards, but Hidden Arsenal 6: Omega Xyz is the first set where Duelists can find them all in one place. Starting on July 24th, Duelists will be rushing to find the latest Hidden Arsenal release (MSRP $3.99 per all-foil five-card pack) featuring cards previously only found in Duel Terminal Yu-Gi-Oh! arcade machines.
Hidden Arsenal 6: Omega Xyz, similar to other Hidden Arsenal releases, features an all-foil set consisting of 60 cards. The complete set includes 40 Super Rare Cards (four per pack) and 20 Secret Rare Cards (one per pack). Players will want to combine cards found in Hidden Arsenal 6 with those collected in Hidden Arsenal 5: Steelswarm Invasion because both sets feature the same Deck themes, such as Vylon, Gem-Knight, and Steelswarm that can be solidified when cards from both sets are used.
Hidden Arsenal 6: Omega Xyz is bursting with various types of monster cards, including Fusion, Ritual, and Synchro, but Duelists will want to zero in on Vylon Disigma, a brand new Xyz Monster that can turn the tide in Duels when played, or Daigusto Phoenix, another new Xyz Monster, that allows a Duelist to select a monster to attack twice during the same turn.