Pojo's Yu-Gi-Oh News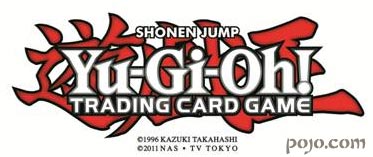 THE FEARSOME SIX SAMURAI RETURN WITH A VENGEANCE IN THE Yu-Gi-Oh! TRADING CARD GAME
SAMURAI WARLORDS STRUCTURE DECK
El Segundo, CA (June 13, 2012) – One of the most feared fighting forces in all of Dueling since 2007, the Six Samurai, join forces again to make an impressive and powerful stand in the newest release from Konami Digital Entertainment, Inc. (Konami) when the Yu-Gi-Oh! TRADING CARD GAME Samurai Warlords Structure Deck arrives in stores June 26.
The mighty Six Samurai have been a mainstay of tournaments for many years and now Duelists get a chance to get in on the action with the Samurai Warlords Structure Deck, which is ready-to-play right out of the box. It comes with a 40-card Main Deck and one new Six Samurai Xyz Monster for the Extra Deck for an MSRP of $9.99.
Packed with some of the hottest Six Samurai cards ever released, Samurai Warlords will help any player start building their own tournament-level Deck. Every Six Samurai monster has its own amazing power and, with all these warriors combined, they form a nearly undefeatable team!
Players already Dueling with a Six Samurai Deck will be psyched to get awesome new Super Rare versions of Legendary Six Samurai - Kageki and Shien's Smoke Signal, which are unavailable anywhere else. Duelists new to the ways of the Six Samurai will get a solid foundation for their new Deck and a brand new Xyz Monster, Shadow of the Six Samurai – Shien, to round out the squad!
Samurai Warlords Structure Deck contains:
38 Common Cards
2 Super Rare Cards
1 Ultra Rare Xyz Monster Card
1 Rulebook
1 Game Mat
1 Dueling Guide