Pojo's Yu-Gi-Oh News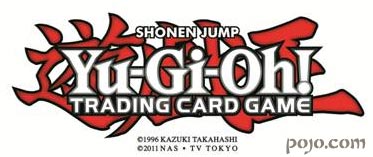 AARON NOEL REIGNS SUPREME OVER TOP PLAYERS AT Yu-Gi-Oh! CHAMPIONSHIP SERIES CHICAGO
El Segundo, CA (May 3, 2012) – Though it was a battle of the Sox this past weekend at U.S. Cellular Field, there was another storied game playing out off the diamond as nearly 1,200 Duelists from Chicagoland and from around the world, flooded the Donald E. Stephens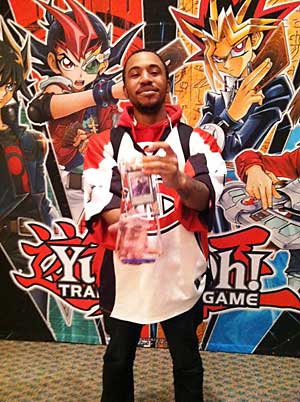 Convention Center for the Yu-Gi-Oh! CHAMPIONSHIP SERIES (YCS) Chicago, each one hoping to hit a home run of their own and capture the title of YCS Champion.

The tables everywhere were jam-packed with Duelists playing at the top of their field, but it was Aaron Noel from Toronto, Ontario that proved to have the best Deck and strategy to close, emerging victorious over the competition at this premier-level Yu-Gi-Oh! TRADING CARD GAME (TCG) event, hosted by trading card game powerhouse, Konami Digital Entertainment, Inc. (Konami).

The two days of competition at YCS Chicago showcased the impressive skills of Yu-Gi-Oh! TCG Duelists young and old, all hungry to earn a spot at Sunday's Final Round table. Preliminary Round after Preliminary Round, Duelists played expertly and aggressively, leaving no card unturned. As Sunday's Preliminary Rounds came to a close, it was clear that Noel and Daniel Nunnally had the best playbooks, earning them a spot at the Final Round table to fight for the Champion title.

Armed with a potent Dino-Rabbits Deck, Nunnally from St. Paul, Minnesota was ready for the game of his life while Noel was just as confident, hoping to throw some heat with his Dino-Rabbits Deck. Both competitors played adroitly, showing a true love of the game but at the end of the Final Round it was Noel who was able to clinch the title of YCS Champion. Noel won an Ultra Rare Blood Mefist YCS Prize Card, and an invitation to his 2012 World Championship Qualifier and more fabulous prizes.

Additionally, on Saturday, Michael Sakowicz from Naperville, Illinois won the Dragon Duel (for Duelists born 1999 or later) adeptly outplaying his Yu-Gi-Oh! TCG peers to earn a special Dragon Duel Champion's Medal, a 2012 Regional Game Mat, a Dragon Duel T-Shirt, and an invitation to his region's 2012 Dragon Duel World Championship Qualifier, where he can earn an invitation to the inaugural Dragon Duel World Championship to be played at the Yu-Gi-Oh! World Championship to be held on August 11-12 in Tokyo, Japan. On Sunday, Brian D. Ahle, from Lebanon, Illinois earned the same honors.
Every Saturday morning, Duelists can watch the all-new Yu-Gi-Oh! ZEXAL animated series as well as classic Yu-Gi-Oh! episodes on TheCW4Kids programming block, the leading Saturday morning kids broadcast network in the United States. In Canada, Duelists can watch episodes of Yu-Gi-Oh! 5D's every Friday and Saturday on YTV! Fans can also view their favorite Yu-Gi-Oh! episodes at www.CW4Kids.com. For more information on Konami or the Yu-Gi-Oh! CHAMPIONSHIP SERIES, please visit www.yugioh-card.com or call 310-220-8630.