Pojo's Yu-Gi-Oh News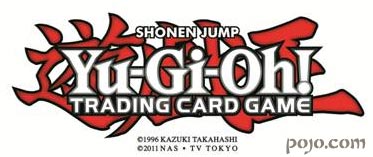 THE ROAD TO DUELING ADVENTURES BEGINS WITH THE
Yu-Gi-Oh! TRADING CARD GAME STARTER DECK: XYZ SYMPHONY
El Segundo, CA (April 4, 2012) – With more than 25 billion cards sold worldwide, it's no wonder that the Yu-Gi-Oh! TRADING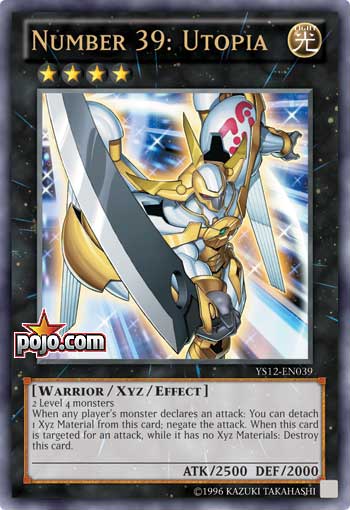 CARD GAME (TCG) is number one. Now it is time for those not yet familiar with this phenomenal TCG to get in the game! The launch of Starter Deck: Xyz Symphony from Konami Digital Entertainment, Inc. (Konami) is the perfect introduction to the Yu-Gi-Oh! TCG and all that it has to offer Duelists.
Starter Deck: Xyz Symphony, the largest Starter Deck in eight years, has everything a budding Duelist needs to start the quest to become a Champion Duelist. It is chock full of some of Yuma's favorite, powerful, and easy-to-use monsters from the all-new Yu-Gi-Oh! ZEXAL animated series. It also includes five Xyz Monsters, including Yuma's signature monster – Number 39: Utopia.
You can't build a winning Deck out of monsters alone, so Starter Deck: Xyz Symphony also includes ten Spells and ten Traps to bolster a beginner's hand. When a player needs help, Spells and Traps are vital for staying in the game. They can power up monsters, weaken or destroy enemy monsters, make it easier to Xyz Summon, and a whole lot more! Ego Boost, Swords of Revealing Light and Heartfelt Appeal are just a few of the handy and effective Spells and Traps that help to round out this 45-card Deck.
Once players have become familiar with the game through using the Starter Deck, they can hone their skills by Dueling with friends or checking out a local store that runs Yu-Gi-Oh! TCG tournaments. Players can even Duel in a Starter-Deck-only event at a Yu-Gi-Oh! Championship Series or Yu-Gi-Oh! Extravaganza event! For more event details go to www.yugioh-card.com/en/events.
Starter Deck: Xyz Symphony will be available at hobby and retail stores nationwide on April 17th for an MSRP of $9.99. The Deck includes:
40 Common Cards
One Ultra Rare Card
Four Super Rare Cards
One Beginner's Guide
One Game Mat