Pojo's Yu-Gi-Oh News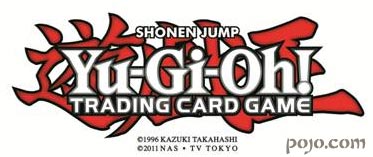 CELEBRATE SPRING'S ARRIVAL WITH THE Yu-Gi-Oh! TRADING CARD GAME PREMIUM COLLECTION
Collectible Product Marks 10 Year Anniversary
El Segundo, CA (March 7, 2012) – In 2002, the Yu-Gi-Oh! TRADING CARD GAME hit the shores of North America and became a global success. To celebrate the milestone, exactly ten years later, Konami Digital Entertainment, Inc. (Konami) is unveiling the Yu-Gi-Oh! TRADING CARD GAME (TCG) Premium Collection, which offers more than 20 brand new cards pulled from ten years of Dueling history.
Whether they've been Dueling for one year or since the Yu-Gi-Oh! TCG was introduced ten years ago, Duelists will be wowed by the fabulous content of the Premium Collection. First, each Premium Collection mini-tin contains two Secret Rare cards: Elemental HERO The Shining from Yu-Gi-Oh! GX (previously available only as a special promotional card), and a new alternate artwork version of Number 34: Terror-Byte (a monster that was released with its original artwork in Generation Force booster packs). In addition, each Premium Collection mini-tin also includes four more Secret Rare cards, and eight Super Rare cards. These 12 cards are pulled from a brand new, 23-card Premium set!
From the original Yu-Gi-Oh! era, Konami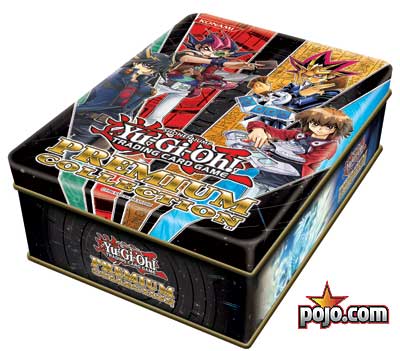 has included an old favorite from the classic video games (and offered as an actual card only once before, in a limited-time promotion), Meteor Dragon. And for the first time ever the power of Meteor B. Dragon, the fusion of Meteor Dragon and Red-Eyes B. Dragon is available for all!
Players can get their game on when Ma'at jumps right out of the pages of the Yu-Gi-Oh! GX Manga. This Egyptian avatar wields all seven of the Millennium Items (from the original series) and was used by Jaden to win his final Duel in the manga series. Duelists can also get new HERO monsters like Masked HERO Acid, who destroys an opponent's Spells & Traps and weakens their monsters!
The unbelievable selection of cards in the Premium Collection doesn't stop at Yu-Gi-Oh! GX – it goes all the way to Yu-Gi-Oh! 5D's and beyond with Void Ogre Dragon and Quick-Span Knight and, from the latest era of Yu-Gi-Oh! Dueling, Yu-Gi-Oh! Zexal, Photon Wyvern and Photon Sanctuary!
The Premium Collection is sure to be an instant must-have collectible when it becomes available March 20th at hobby stores and retailers nationwide for MSRP: $9.99 per mini-tin.
Each Premium Collection mini-tin contains:
One Secret Rare card: Elemental HERO The Shining
One Secret Rare card: Number 34: Terror-Byte (alternate art)
Four additional Secret Rare cards
Eight Super Rare cards
One Beginner's Guide