Pojo's Yu-Gi-Oh News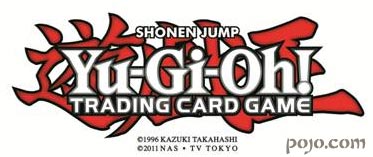 MARCH '12 ORDERS UP ANOTHER ROUND OF CHAOS AS THE
Yu-Gi-Oh! TRADING CARD GAME ORDER OF CHAOS SPECIAL EDITION HITS STORE SHELVES
El Segundo, CA (February 28, 2012) – In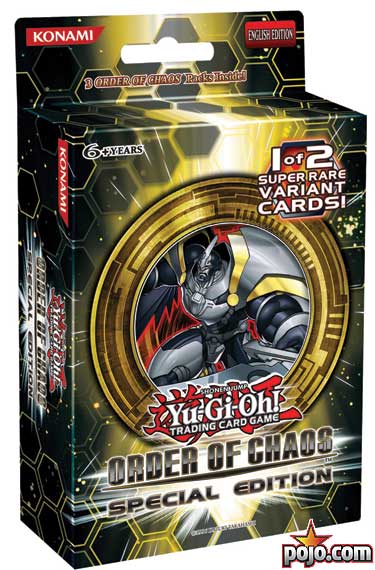 January, Order of Chaos unleashed a ton of LIGHT and DARK monsters like White Dragon Ninja and Interplanetarypurplythorny Dragon into the Dueling world. Now the Yu-Gi-Oh! TRADING CARD GAME (TCG) is poised to wreak havoc once again with the release of the Order of Chaos Special Edition from Konami Digital Entertainment, Inc. (Konami).
Duelists looking for more Ninjas, more Inzektors, more Wind-Ups, and more Photon monsters will be eager to get their hands on this Special Edition. Players will want to take advantage of this second offering because many cards in this set can be combined with upcoming boosters as well as past releases such as Photon Shockwave and the Dragons Collide Structure Deck.
Each Order of Chaos Special Edition delivers three booster packs of Order of Chaos plus one of two Super Rare variant cards either Effect Veiler or The Winged Dragon of Ra!
Players will be psyched to get either incredible card. Effect Veiler, a highly versatile LIGHT Tuner monster that was first released in Duelist Revolution, is a valuable weapon to stop an opponent's most powerful monsters dead in their tracks. And The Winged Dragon Ra, until now only available as a special promotional card, gives Duelists a chance to add this powerful and legendary Egyptian God Card to their Deck!
Order of Chaos Special Edition is a great way for Duelists fill out their Decks or collection, and for less than it would cost to buy three booster packs separately! Order of Chaos Special Edition will be available at hobby stores and retailers nationwide on March 6th for MSRP: $9.99 per box