Pojo's Yu-Gi-Oh News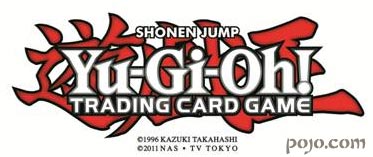 THE PAST, PRESENT AND FUTURE ARE HEADING ON A COLLISION COURSE IN
Yu-Gi-Oh! TRADING CARD GAME'S DRAGONS COLLIDE STRUCTURE DECK
El Segundo, CA (February 2, 2012) – The mightiest LIGHT and DARK Dragons, from the past, present and future, rear their heads in a battle of epic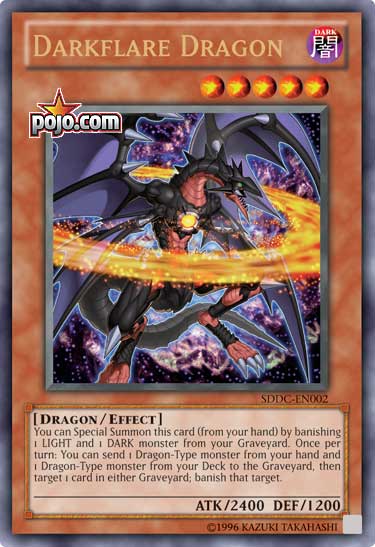 proportions in the Yu-Gi-Oh! TRADING CARD GAME (TCG) Dragons Collide Structure Deck from Konami Digital Entertainment, Inc. (Konami). This ready-to-play Deck sees LIGHT and DARK Dragons combining forces for the first time in a Structure Deck, making for a fearsome team.
Fueling each others' abilities with their LIGHT and DARK energies, Lightpulsar Dragon and Darkflare Dragon work in tandem to destroy an opponent's monsters with an onslaught of Dragons, while Eclipse Wyvern carefully maintains the gravitational energies of cosmic dragons, by balancing LIGHT and DARK against each other.
These LIGHT and DARK Dragons can't do it all by themselves so Dragons from every era of Dueling signed on to battle alongside Lightpulsar Dragon and Darkflare Dragon. The Dragons Collide Structure Deck lets a Duelist wield the mighty Blue-Eyes White Dragon and the eternally feared Dark Armed Dragon at the same time! It even lets a player unleash tremendous combos from the dawn of Dueling, including the game-winning maneuver of Lord of D. plus The Flute of Summoning Dragon.
The Dragons Collide Structure Deck is a ready-to-play 40 card Deck. Duelists can play with it right out of the box, or use the cards to create and customize a Deck. Many of these cards work well with cards found in Order of Chaos and Photon Shockwave booster sets, allowing a player to use these cards to make many different unique and powerful Decks!
Dragons Collide also includes many great cards that are great additions to Decks you might already play, including Chaos Sorcerer, Lyla, Lightsworn Sorceress and Call of the Haunted.
Available February 7th, Dragons Collide Structure Deck (MSRP: $9.99) contains:
37 Common cards
2 Ultra Rare cards
1 Super Rare card
1 Game Mat
1 Dueling Guide