Pojo's Yu-Gi-Oh News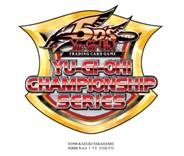 KONAMI DIGITAL ENTERTAINMENT HERALDS TYREE TINSLEYAT THE Yu-Gi-Oh! CHAMPIONSHIP SERIES
HELD IN PROVIDENCE, RHODE ISLAND
EL SEGUNDO, CA (June 21, 2011) – As expected, nearly 750 Duelists from around the country gathered at the Rhode Island Convention Center this past weekend to participate in Konami Digital Entertainment's (Konami) premier-level Yu-Gi-Oh! TRADING CARD GAME (TCG) event, the Yu-Gi-Oh! Championship Series (YCS). Among the hundreds gathered, only one prevailed as Champion, Tyree Tinsley.
Knowing that it was to be the last YCS leading up to July's 2011 Yu-Gi-Oh! North American World Championship Qualifier, the tournament got intense early on with expert and novice Duelists all playing with their "A" game. But it was Tinsley that remained judicious, playing smart and savvy during the preliminary rounds that earned him a spot at the final table versus Reinaldo Lainez in the Championship Match on Sunday.
After weeks of diligent Deck preparation, fine-tuning strategies and, with Saturday's hard fought Preliminary Rounds complete, the final head-to-head competition began as both Duelists came prepared to win it all. Richmond, Virginia's Tinsley was confident that his Tengu Synchro Deck was formidable enough to answer anything that Quincy, Massachusetts' Lainez would dish out with his Infernity Deck.
The hall, abuzz minutes earlier, was hushed as the two contenders shook hands before the Match. Lainez's Infernity Deck was running hot all weekend, churning out win after win, but in the end the wheels came off of his combo-heavy Deck and Tyree Tinsley claimed a swift 2-0 victory.
Tyree's win earned him a fantastic prize package that included a set of Ultra Rare YCS Prize Cards, an exclusive YCS Game Mat, a netbook computer, a paid trip to his 2011 World Championship Qualifier, and more!