Pojo's Yu-Gi-Oh News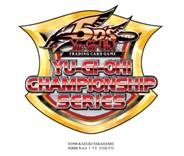 ANGEL FLORES DUELS HIS WAY THROUGH ANAHEIM TO EMERGE VICTORIOUS AT THE
Yu-Gi-Oh! CHAMPIONSHIP SERIES
EL SEGUNDO, CA (April 12, 2011) – Last weekend more than 1,400 Duelists swept into Anaheim, California prepared to Duel their way to becoming the next Champion at the esteemed Yu-Gi-Oh! Championship Series (YCS), Konami Digital Entertainment's (Konami) premier-level Yu-Gi-Oh! TRADING CARD GAME (TCG) event. The much-anticipated competition was held at the Anaheim Convention Center, the series' first West Coast stop this season.
From the first round Saturday morning to the final round Sunday afternoon, veteran and novice Duelists ate, slept and breathed Yu-Gi-Oh!, motivated by the desire to win. But only two made it to the coveted final round, 24 year old Angel Flores and 17 year old Jonathan Weigle.
The all or nothing final match pitted a Gravekeeper Deck (Weigle) against a combination Deck featuring Elemental Heroes and Gemini monsters (Flores)! Flores took the first Duel in the best-of-three match-up. The action was back-and-forth in the second Duel as Weigle tried to even the score, until a seemingly weakened Flores surprised his opponent by Summoning Gorz the Emissary of Darkness, then depowered Weigle's Gravekeeper with Forbidden Chalice when Weigle tried to stage a counter-attack. Flores pressed his attack for several turns, forcing Weigle more and more on the defensive, until Flores could use his Penguin Soldier to return Weigle's remaining monsters to his hand and leave him open to a final, direct assault from Elemental Hero Stratos.
Flores, now a two-time YCS Champion, earned a notable prize package that included a set of Ultra Rare YCS Prize Cards, an exclusive YCS Game Mat, a netbook computer, a paid trip to his 2011 World Championship Qualifier, and more!