Pojo's Yu-Gi-Oh News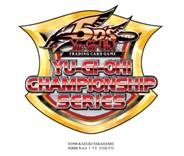 SEAN COOVERT DEFEATS NICKY LACAILLE
IN A DUELING SHOWDOWN AT
THE Yu-Gi-Oh! CHAMPIONSHIP SERIES IN CHARLOTTE, NC
EL SEGUNDO, CA (March 23, 2011) – After a long two days of rigorous Dueling it was Sean Coovert that triumphed in his quest to be named Champion, upsetting the dreams of more than 1,000 formidable Duelists at this past weekend's Yu-Gi-Oh! Championship Series (YCS). Held at the Charlotte Convention Center, the YCS is Konami Digital Entertainment's (Konami) ongoing premier-level Yu-Gi-Oh! TRADING CARD GAME (TCG) competitive tour.
In a Dueling tug-of-war it was Sean Coovert that prevailed in an intense Final round as he beat Nicky Lacaille for the victory. Amid a sea of Yu-Gi-Oh! TCG fans it was Sean, age 21, from Haverstraw, New York and Nicky, age 21 from Montreal, Quebec that stole the show. Confident in their chosen Decks, Six Samurai and Fish respectively, they battled masterfully, and skillfully tried to upend the other for the win.
Late in the Match, the pressure was mounting on Lacaille as Coovert's Samurais systematically blocked his every move. His one last chance was to Summon his ace monster, Superancient Deepsea King Coelacanth, but when he tried, Coovert flipped his Solemn Warning Trap Card to seal his victory and become the YCS Charlotte Champion!!
Sean earned a fantastic prize package that included a set of Ultra Rare YCS Prize Cards, an exclusive YCS Game Mat, a netbook computer, a paid trip to his 2011 World Championship Qualifier, and more!