Pojo's Yu-Gi-Oh News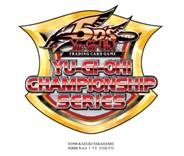 NIZAR SARHAN EDGES THE FIELD AT THE Yu-Gi-Oh! CHAMPIONSHIP SERIES IN DALLAS
The Dallas-Fort Worth Area Played Host to the First Yu-Gi-Oh! TRADING CARD GAME Premier Level Event of 2011
EL SEGUNDO, CA (February 18, 2011) – After two days filled with nervous stares, sizing up the competition, and intense battles, it was Nizar Sarhan who distanced himself from his peers to win Konami Digital Entertainment, Inc.'s (Konami) Yu-Gi-Oh! Championship Series (YCS) in the Dallas, Fort Worth Metroplex this past weekend. More than 1,100 players spent two days packed with Dueling in hopes of becoming the next Champion of this premier-level Yu-Gi-Oh! TRADING CARD GAME (TCG) event.
On Sunday, in a convention room filled with anticipation, everyone in attendance was focused on the last two Duelists standing, Nizar Sarhan of Patterson, NJ and Traviis "Tray" Massengale of Topeka, KS, as they displayed the expertise that led them to the Final Round.
Nizar, age 16, and Tray, age 20, both developed their Decks with the intention of dominating the two-day tournament. Sarhan expertly played his Legendary Six Samurai Deck against Massengale's Gravekeeper Deck. Sarhan's lightning-fast Samurais stormed the field to quickly take the first of three Duels, but Massengale's Gravekeepers took the second Duel using their key cards Necrovalley and Royal Tribute to wipe out Sarhan's Samurai before they could enter the action. When it was all said and done, the match came down to the third Duel, when Sarhan launched a renewed Samurai attack, assisted by a surprise Summon of his new Naturia Barkion monster. The combination of Barkion with Legendary Six Samurai - Shi En was able to shut down Massengale's defenses and score one final victory for Sarhan.
Sarhan earned an exceptional prize package that included a set of Ultra Rare YCS Prize Cards, an exclusive YCS Game Mat, a netbook computer, a paid trip to his 2011 World Championship Qualifier, a free ticket to the upcoming Yu-Gi-Oh! 3D: Bonds Beyond Time movie, and more!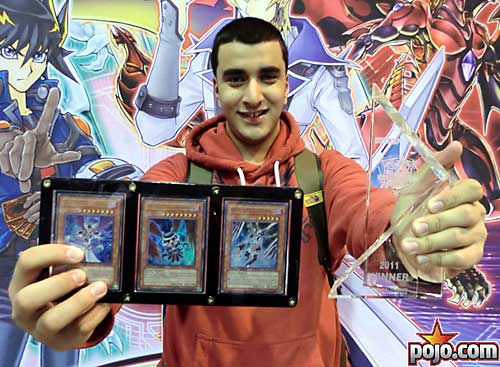 For more information on Konami, the Yu-Gi-Oh! TRADING CARD GAME or the Yu-Gi-Oh! Championship Series, please visit www.yugioh-card.com.