Pojo's Yu-Gi-Oh News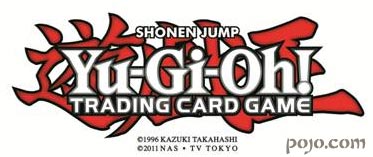 DUELISTS BEWARE! THE FORCES OF DARKNESS HAVE RETURNED WITH THE Yu-Gi-Oh! TRADING CARD GAME GATES OF THE UNDERWORLD STRUCTURE DECK
EL SEGUNDO, Calif. (September26, 2011) – After six years of waiting, plotting, and planning, the most fiendish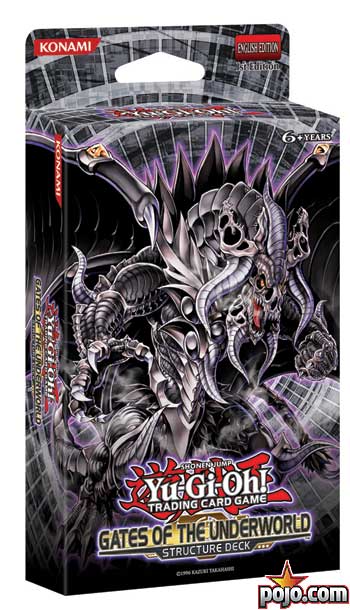 monsters of all time have finally been assembled in one place by Konami Digital Entertainment, Inc. (Konami), the makers of the best-selling Yu-Gi-Oh! TRADING CARD GAME (TCG), in the Gates of the Underworld Structure Deck.
Opponents will flee in terror at the sight of this benchmark, ready-to-play, 40-card Deck. Poised to dominate the Dueling world are The Lords of Dark World, a hungry, powerful, yet often overlooked coalition of cards. Overlooked, that is, until now. Ready to crush any who stand in its way, Gates of the Underworld unleashes the invincible Grapha, Dragon Lord of Dark World, leading the charge into battle! This card enables a Duelist to Summon any monster from an opponent's hand to their side of the field. Grapha can never be defeated for good, as it returns to play so long as its owner controls at least one Dark World monster.
The plot thickens when Duelists throw down The Gates of Dark World, which lets a player discard Fiends and draw cards. Some Dark World monsters are Summoned to the field when discarded, and others do even more fiendish things, so this new Spell Card enables new combos for this Deck! Also, the new Snoww, Unlight of Dark World card searches out ANY Dark World card from a Duelist's Deck. It can also corrupt an opponent's monsters, by Special Summoning any monster from the opposing Graveyard to Snoww's side of the field, under her control.
Gates of the Underworld Structure Deck (MSRP $9.99) will be available on October 18th at hobby and retail stores nationwide. Duelists can play with the Deck as-is, or use these cards to create and customize their own Deck. It includes every Dark World monster released to date, plus 5 brand new cards, so it's got everything that Duelists need to build a Dark World Deck of their very own!
Gates of the Underworld Structure Deck Contains:
37 Common Cards
1 Ultra Rare Card
2 Super Rare Cards
1 Rulebook
1 Game Mat
1 Dueling Guide