Pojo's Yu-Gi-Oh News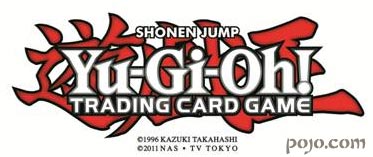 ENTER THE NEXT GENERATION OF DUELING WITH GENERATION FORCE SPECIAL EDITION
Must-have Yu-Gi-Oh! TRADING CARD GAME Booster Packs at a Great Value
El Segundo, CA (August 25, 2011) – Konami Digital Entertainment, Inc. (Konami) takes Duelists into new dimensions with the Yu-Gi-Oh! TRADING CARD GAME (TCG) Generation Force Special Edition. Each Generation Force Special Edition includes three boo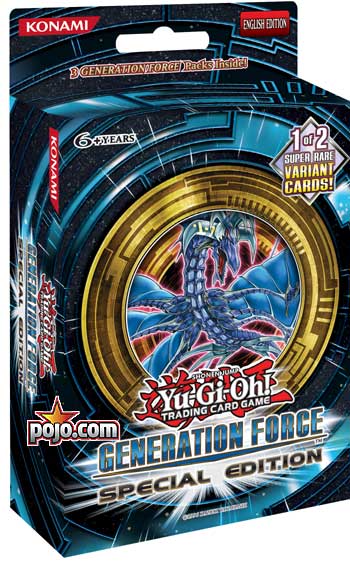 ster packs of Generation Force and one of two Super Rare variant cards: Elemental HERO Absolute Zero or Spore!
Releasing on September 20th, Generation Force Special Edition (MSRP $9.99 per Special Edition Box) gives Duelists a second chance to get Xyz Monsters like the Twin Terrors of Destruction, Tiras, Keeper of Genesis and Adreus, Keeper of Armageddon, and the ever-popular Steelswarm Roach, who can negate the Special Summon of any Level 5 or higher monster! Duelists should take advantage of this second offering of Generation Force while supplies last, because many of the cards in this set are the foundation of incredible new Decks that will only get better with upcoming releases!
Elemental HERO Absolute Zero is one of the most popular HERO cards. It starts with 2500 Attack Points and isn't picky about its Fusion Materials, since Duelists can Fusion Summon it with any HERO and any WATER monster!. Elemental HERO Absolute Zero can't lose, because if it leaves the field it instantaneously defeats all of the opponent's monsters!
Spore was one of the most sought-after cards this past tournament season, appearing in many tournament-level Decks, including top Decks at the North American World Championship Qualifiers. Spore is a Tuner monster that can be used for multiple Synchro Summons. It can also change its Level so you can use it to Xyz Summon a wide variety of Xyz Monsters.
Each Generation Force Special Edition contains:
3 Packs of Generation Force
1 of 2 Variant Cards