Pojo's Yu-Gi-Oh News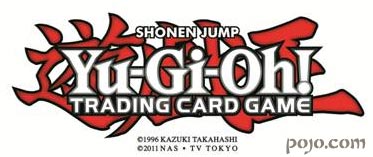 KONAMI DIGITAL ENTERTAINMENT CELEBRATES 10TH ANNIVERSARY WITH TWO UNPRECEDENTED
Yu-Gi-Oh! TRADING CARD GAME TINS
El Segundo, CA (August 26, 2011) – Konami Digital Entertainment, Inc. (Konami), the makers of the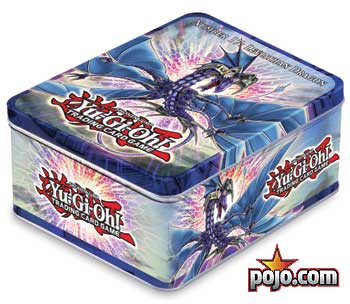 pop-culture sensation, the Yu-Gi-Oh! TRADING CARD GAME (TCG), continues its celebratory 10th year with a special delivery of two Collectible Tins on August 30th. This year's first two Yu-Gi-Oh! Collectible Tin releases, the Number 17: Leviathan Dragon and Wind-Up Zenmaister Collectible Tins, are packed with insanely good cards. Each includes five booster packs, a Secret Rare version of the monster on the tin, and four Super Rare versions of popular and powerful cards making both tins a fantastic value for Duelists!
The Number 17: Leviathan Dragon Collectible Tin features one of the first black-framed Xyz Monsters. This terror from the deep is easy to Summon as Duelists just need two Level 3 monsters on the field. It starts off at 2000 Attack Points, but can instantly increase to 2500, then to 3000 ATK on the following turn! The best strategy is to combine this card with Level 3 monsters that have effects that can only be used once. The Secret Rare Number 17: Leviathan Dragon card is an easy way to turn those used-up Level 3 monsters into a Dueling powerhouse!
As if one monstrous Tin isn't enough for Duelists, Konami is releasing the Wind-Up Zenmaister Collectible Tin with another one of the first black-framed Xyz Monsters. This clockwork commander requires just two Level 4 monsters to Xyz Summon. Once on the field, a Duelist can use its Xyz Materials to flip their monsters face-down, then face-up again. This is a great way to get multiple shots out of Flip Effect Monsters, or to re-use the effects of Wind-Up monsters from Generation Force and other booster pack sets, or to get rid of any nasty effects an opponent has put on a players' monsters.
Both Tins also include Pot of Duality, one of the most popular cards from the last year and three more Super Rare variant cards (cards vary by Tin - MSRP: $19.99 each). More details, including the full list of Super Rare variant cards in each tin, can be found at http://www.yugioh-card.com/en/products/.