Pojo's Yu-Gi-Oh News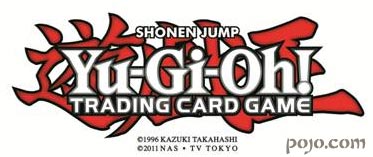 KONAMI DIGITAL ENTERTAINMENT HEATS UP SAN DIEGO COMIC- CON WITH PERSONALIZED
Yu-Gi-Oh! TRADING CARD GAME TOKEN CARDS
El Segundo, CA (July 19, 2011) – Konami Digital Entertainment, Inc. (Konami), the makers of the pop-culture sensation Yu-Gi-Oh! TRADING CARD GAME (TCG), has a host of fun and engaging activities planned at this month's San Diego Comic-Con International (booth #3713) from July 20th – July 24th. Showcasing the world's best-selling Yu-Gi-Oh! TCG and the newly launched TCG from SUPERHEAT Games, the Konami booth is a must-visit for attendees of all ages during the course of the world-famous five day show.
For the best Comic-Con keepsake, attendees will want to make a beeline to the Konami booth to create a one-of-a-kind Yu-Gi-Oh! Token Card. They can choose from seven different card backgrounds with characters, including favorites like Yusei Fudo and Yugi Muto, to create their own personalized Token Card – suitable for use during Duels!
Attendees can also purchase Yu-Gi-Oh! TCG products at Comic-Con, including the exciting new Starter Deck: Dawn of the Xyz!
With Token Card in hand, attendees will want to stick around and get a Yu-Gi-Oh! game demonstration and try their hand at the recently released SUPERHEAT Skateboard Trading Card Game, a revolutionary new trading card game designed by skaters which features more than 30 of the top professional riders in street and vert.
Additionally, they can try out the Yu-Gi-Oh! 5D's DUEL TERMINAL arcade-style machine that plays and teaches the Yu-Gi-Oh! TCG, and dispenses cards to players or stop by for some cool giveaways and demo the latest video games published by Konami including Metal Gear Solid – Peacewalker, Silent Hill 3D, Glee 3, and Otomedius Excellent.
For the avid Duelist or players looking for a more formal gameplay experience, Konami will host Yu-Gi-Oh! TCG open play in Ballroom 16 A & B on Friday and Sunday.
San Diego Comic Con hours:
Wednesday, July 20: 6:00 p.m. – 9:00 p.m. (Preview Night; some activities not available)
Thursday, July 21: 9:30 a.m. – 7:00 p.m.
Friday, July 22: 9:30 a.m. – 7:00 p.m.
Saturday, July 23: 9:30 a.m. – 7:00 p.m.
Sunday, July 24: 9:30 a.m. – 5:00 p.m.