Pojo's Yu-Gi-Oh News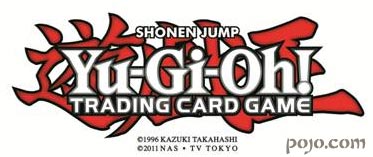 KONAMI DIGITAL ENTERTAINMENT UNVEILS NEW
Yu-Gi-Oh! TRADING CARD GAME LOGO
Universal Logo to Commemorate Game's 10th Anniversary
El Segundo, CA (June 9, 2011) – Konami Digital Entertainment, Inc. (Konami) announced today that it will introduce a new, universal Yu-Gi-Oh! TRADING CARD GAME (TCG) logo concurrently with the release of its upcoming 2011 Starter Deck: Dawn of the Xyz on July 12th. The newly designed logo, which will roll out on TCG branded elements in July, celebrates the game's momentous upcoming 10th anniversary. Yu-Gi-Oh! has had multiple television series and logos in its long storied history. However, moving forward, the same logo will appear on most Yu-Gi-Oh! TCG products, regardless of which TV series they are associated.
The Yu-Gi-Oh! storyline and characters were created by Kazuki Takahashi and were featured every week in the Weekly Shonen Jump magazine from 1996 to 2004. Due to its worldwide appeal, Yu-Gi-Oh! and its characters have been depicted in animated series, motion pictures, trading card and video games, plush toys, and figurines. The Yu-Gi-Oh! TCG was first introduced in the United States in 2002 following Yu-Gi-Oh!'s North American TV debut the previous year. The initial Legend of Blue-Eyes White Dragon TCG booster release helped to set the stage for the game to be named the best selling trading card game of all time, with more than 22 billion cards sold. The Yu-Gi-Oh! TCS was officially entered into the Guinness World Records™ on July 7th, 2009.
"The Yu-Gi-Oh! TRADING CARD GAME brand continues to evolve, and hitting this milestone gives us the perfect opportunity to refresh the logo. Our dedicated customers and Duelists will start seeing the new logo on our website www.yugioh-card.com and on the product packaging starting in July," noted Yumi Hoashi, vice president of Card Business for Konami Digital Entertainment, Inc. "By having a single, universal logo, our Duelists can more easily spot Yu-Gi-Oh! TCG items in stores."
The introduction of a new logo is part of a multi-pronged campaign that the company has developed to celebrate the game's upcoming 10th anniversary in North America. Other elements include additional specialized products to celebrate Yu-Gi-Oh!'s 10 years on TV, a joint appearance of the Yugi and Yusei voice actors at the upcoming 2011 North American World Championship Qualifier, and a game mechanics revamp to make the game easier for new players and more streamlined for veteran Duelists.