Pojo's Yu-Gi-Oh News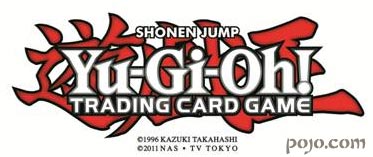 STRAIGHT FROM THE DARKNESS OF DEEP SPACE
ARRIVES THE Yu-Gi-Oh! TRADING CARD GAME STARTER DECK: DAWN OF THE Xyz
El Segundo, CA (June 30, 2011) –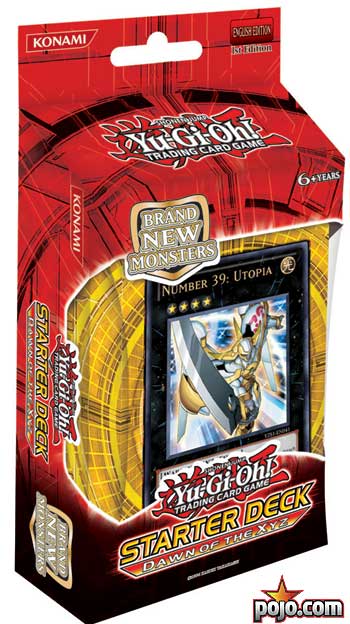 The incredible new, space-framed Xyz Monsters are traveling at the speed of light to stores nationwide on July 12th when Konami Digital Entertainment, Inc. (Konami) delivers the Yu-Gi-Oh! TRADING CARD GAME (TCG) Starter Deck: Dawn of the Xyz.
Pronounced ik-seez, the Xyz Monsters get their name because they are so easy to Summon. Players can make Xyz Monsters from anything: any monster Type, any Attribute and any theme. In fact, the best thing about Xyz Monsters is that they already work with any Deck, right now, with no adjustments required!
Xyz Monsters live in Reverse Time, so they do lots of things backwards. For instance, Xyz Monsters are pitch-black and the letters on them are bright white. Xyz Monsters have a Rank instead of a Level (with yellow & black stars, instead of yellow & red) and their stars are on the left instead of the right. Strangest of all, the monsters used to create an Xyz Monster stick around, to fuel up the Xyz's special powers!
The Dawn of the Xyz Starter Deck comes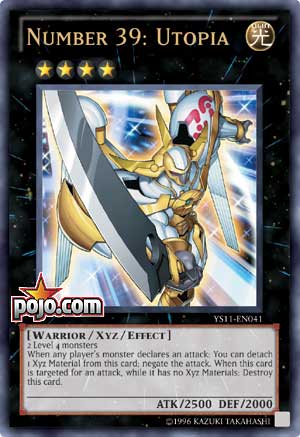 with 43 cards and is ready to Duel right out of the box! Serving two roles, it is designed to teach new players the ins & outs of the Yu-Gi-Oh! TCG and also teaches current players about this new fabulous and flexible category of monsters. Starter Deck: Dawn of the Xyz is the very first place to get Xyz Monsters to add to an Extra Deck. Plus, Dawn of the Xyz also includes new Spell and Trap Cards to help Duelists make the most of the new Xyz Monsters. Additionally, Dawn of the Xyz includes lots of powerful cards that work in any Deck, like Mirror Force, Seven Tools of the Bandit, and Blade Knight.
A new age of Dueling is dawning, and this is the chance for Duelists to get in front of the pack!
Starter Deck: Dawn of the Xyz contains 43 cards (MSRP: $9.99):
40 Common Cards
1 Ultra Rare Card
2 Super Rare Cards
1 Beginner's Guide
1 Game Mat