Pojo's Yu-Gi-Oh News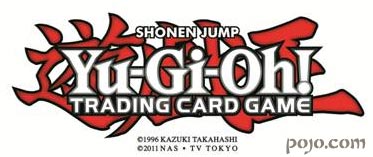 KONAMI DIGITAL ENTERTAINMENT ADDS BLING TO THE
Yu-Gi-Oh! TRADING CARD GAME GOLD SERIES 4: PYRAMIDS EDITION
Gold Series 4 Features First Time Retail Offering of Official
Yu-Gi-Oh! TRADING CARD GAME Game Mat
El Segundo, CA (June 13, 2011) – All that glitters is gold! To set the stage for a summer of sizzling Dueling, Konami Digital Entertainment, Inc. (Konami) will release the Yu-Gi-Oh! TRADING CARD GAME (TCG)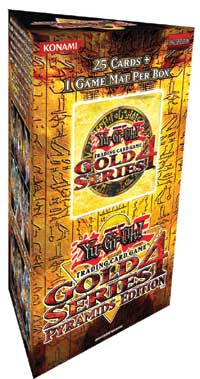 Gold Series 4: Pyramids Edition on June 28th. Continuing the tradition of the Yu-Gi-Oh! TCG Gold Series, Konami will offer this all-encompassing set exclusively to hobby retailers nationwide.
Gold Series 4: Pyramids Edition (MSRP $29.99) is bursting with cards fit for the Pharaohs of Egypt! Featuring gleaming gold foil technology, these rare in-demand cards can only be found within the Gold Series set.
Every level of player will find something special to add to their Deck in Gold Series 4: Pyramids Edition where powerful, hard-to-get cards are easier than ever to find. Duelists will enjoy ripping open packs to hunt for cards like Doomcaliber Knight and Tytannial, Princess of Camellias. Players can also add Gold Rare versions of many fan favorite monsters from the TV series, such as Obelisk the Tormentor and Five-Headed Dragon. Decks will shine brighter with new Gold Rare versions of tournament-level cards Gravekeeper's Spy and Royal Oppression.
Reaching an even higher "Gold" standard, Gold Series 4 includes Yu-Gi-Oh! TCG Game Mats! Yu-Gi-Oh! TCG Game Mats have never been included with a for-sale product before! Made from ultra-tough rubber to last a long time, three different versions are available – the Standard Edition boxes contain the Yugi Game Mat (with Dark Magician and Dark Magician Girl) or the Kaiba Game Mat (with Blue-Eyes White Dragon and XYZ-Dragon Cannon). Additionally, Official Tournament Stores may also have a special Official Tournament Store Edition Game Mat. This is a special Mat showcasing Yugi and Kaiba – partnering again for another of their famous team Duels! Until now, these kinds of high-quality Yu-Gi-Oh! TCG Game Mats have only been available as hard-to-get tournament prizes.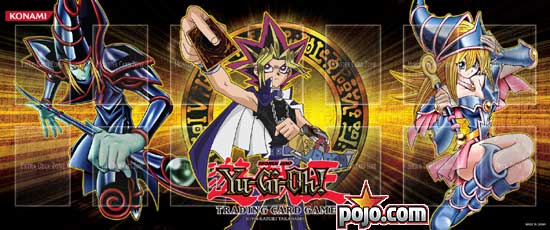 To complement these special Yugi and Kaiba Game Mats, Konami has added some of the oldest monsters in existence to Gold Series 4 – many of which have been out of print for nearly 10 years. There are even a few old-school cards that have not been available until now, such as Bandit Keith's Pendulum Machine and limited edition promotional cards from many years ago, such as Millennium Shield, Goddess of Whim, and Toon Dark Magician Girl, rounding-out this luminous set.
Gold Series 4: Pyramids Edition contains 50 cards:
18 Gold Rare Cards
32 Common Cards
3 different Official Yu-Gi-Oh! TCG Game Mats