IT'S TIME A FOR A HIGH-TECH SHOWDOWN AS SYNCHRO MONSTERS BATTLE SYNCHRO DESTROYERS
FOR THEIR SURVIVAL IN THE Yu-Gi-Oh! TRADING CARD GAME Extreme Victory BOOSTER PACK
El Segundo, CA (May11, 2011) – For three years, Synchro Monsters have dominated the Yu-Gi-Oh! TRADING CARD GAME. Now, they have finally reached their ultimate evolution with the release of Extreme Victory, the latest must-have booster pack set from Konami Digital Entertainment (Konami).
The new Tech Genus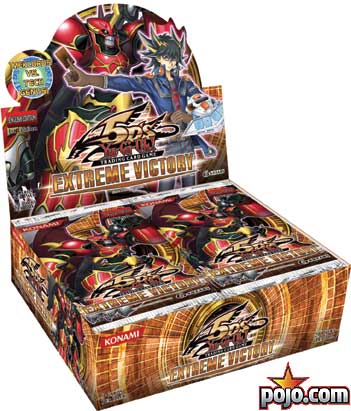 (T.G.) Decks are specially designed to crank-out Synchro Monsters over and over again at a fast and furious pace. With unbelievable flexibility, the T.G. Decks enable Synchro Monsters to be at their ultimate extreme. When most T.G. monsters get destroyed, they allow players to add another monster to their hand (or maybe draw an extra card!) to continue the combos. With this unique feature, Duelists can upgrade their field set-up every turn to get the exact monsters needed to execute the right Synchro Summons.

Extreme Victory, available now, is jammed with powerful cards including eleven T.G. Monsters, five of which are the biggest and baddest Synchro Monsters around! T.G. Wonder Magician will help to destroy Spells and Traps while T.G. Blade Blaster and its 3300 ATK deflect danger. Not to be outdone, the formidable T.G. Halberd Cannon can negate Summons and revive T.G. Synchros!

Duelists can also put the smackdown on Synchro Monsters with Meklords, a vast army of hungry machines. When they see a Synchro Monster, they simply devour it – and use its powers for themselves! With the arrival of the Meklord army, Synchro Monsters everywhere are now marked targets.

Whether you like Six Samurai, Gladiator Beasts, Blackwings, or another Deck entirely, Extreme Victory is loaded with new cards to make just about any Deck more potent. It even contains the new Elemental Hero Neos Knight from the Yu-Gi-Oh! 3D: Bonds Beyond Time movie. As a precursor to new monsters coming later this year (stay tuned), Extreme Victory contains special cards to make these upcoming monsters even better! Duelists should jump on the chance now to grab Psi-Beast, Reborn Tengu and Tour Guide From the Underworld. These cards are sure to be in hot demand later this year.

Extreme Victory contains 100 cards (MSRP: $3.99 per pack):

48 Common

20 Rare

14 Super Rare

10 Ultra Rare

8 Secret Rare

The Extreme Victory booster pack will be supported by a dedicated two-week advertising campaign beginning May 10th.