HIDDEN ARSENAL 4: TRISHULA'S TRIUMPH RISES UP THROUGH THE GLACIERS DELIVERING NEW DRAGUNITY, JURRAC, GENEX, FABLED, NATURIA & FLAMVELL MONSTERS
Latest Yu-Gi-Oh! TRADING CARD GAME All-Foil 60-card Booster Set
El Segundo, CA (April 6, 2011) – Konami Digital Entertainment, Inc. (Konami) delivers an impressive 60-card "monster" of a set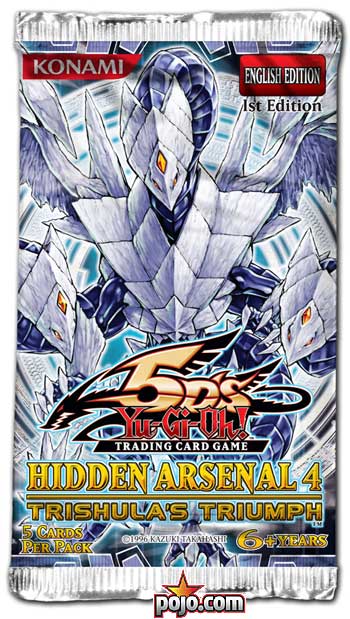 with the release of the latest all-foil Yu-Gi-Oh! TRADING CARD GAME (TCG) booster, Hidden Arsenal 4: Trishula's Triumph. Hidden Arsenal 4 introduces the third mighty Dragon of the Ice Barrier: Trishula, Dragon of the Ice Barrier!
A Duelist who Summons Trishula can permanently eliminate three of their opponent's cards from the Duel: one from the hand, one on the field, and one in the Graveyard! Best of all, Trishula works well in any Deck! Of course, Trishula, Dragon of the Ice Barrier isn't the only new Ice Barrier monster in this set. Two new Ice Barrier Generals, General Raiho of the Ice Barrier and General Gantala of the Ice Barrier, are also ready to take up your cause!
Danger! Do not feed the monsters! New 'The Fabled…' monsters may look cute and cuddly, but their bite is far worse than their bark. Based on legendary beasts, The Fabled monsters have all sorts of fantastic powers, including The Fabled Unicore, a monster that can negate every one of your opponent's card effects!
Not every card in Hidden Arsenal 4 is for attacking, there are some great cards for defense too. Naturia Beast (from Hidden Arsenal 2) negates Spells. Naturia Barkion (from Hidden Arsenal 3) negates Traps. And now the new Fusion Monster Naturia Exterio negates both! Not to be outdone, Naturia Landoise, another new Synchro Monster, can negate the Effects of monsters!
Hidden Arsenal 4: Trishula's Triumph (MSRP $3.99 per five card foil pack) includes one Secret Rare and four Super Rare cards and cuts through the ice to land on shelves nationwide on April 19.
Hidden Arsenal 4: Trishula's Triumph includes:
60 Total Cards
20 Secret Rare Cards
40 Super Rare Cards
1 new Fusion Monster
10 new Synchro Monsters
49 new Effect Monsters