NEW Yu-Gi-Oh! TRADING CARD GAME STRUCTURE DECK: DRAGUNITY LEGION
COMBINES CELTIC DRAGONS WITH WINGED BEASTS
Latest Yu-Gi-Oh! TRADING CARD GAME Structure Deck Includes Five Brand-new Cards Unavailable Anywhere Else!
El Segundo, CA (March 15, 2011) – Konami Digital Entertainment, Inc. (Konami) is taking Duelists back in time to Ancient Rome with the release of the latest Yu-Gi-Oh! TRADING CARD GAME (TCG) Structure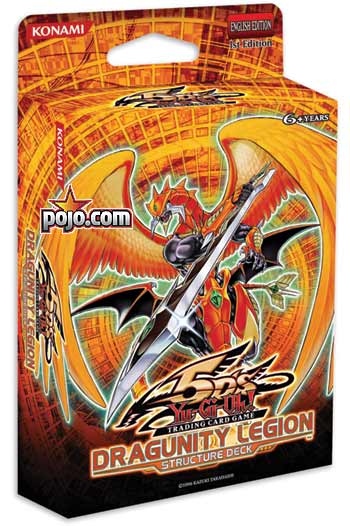 Deck: Dragunity Legion. Structure Deck: Dragunity Legion is the perfect platform for Duelists of any age to start building their own Dragunity Deck. It can even be played straight out of the box!
The highly disciplined and militaristic Dragunity monsters were first introduced in Starstrike Blast and Hidden Arsenal 3, and now they're back and better than ever! Dragunity Decks work so well because the enormous Dragunity monsters are able to utilize smaller monsters as living weapons, making themselves even stronger. Monsters like Dragunity Arma Leyvaten can even change their weapons back into monsters! As always, this Structure Deck also comes with cards that will enhance any Deck, including the tough-to-find United We Stand and Mage Power along with perennial favorites Mirror Force and Bottomless Trap Hole.
Structure Deck: Dragunity Legion (MSRP $9.99 per 40 card deck), with its five brand-new cards unavailable anywhere else, is on shelves now nationwide.

Structure Deck: Dragunity Legion includes:
40 Total Cards
37 Common Cards
2 Super Rare Cards
1 Ultra Rare Cards
1 Rulebook
1 Game Mat
1 Dueling Guide
As a bonus, many Dragunity monsters are also Tuners, to help with Synchro Summoning. Duelists who want to max out the power of their Dragunity Decks can look for special Dragunity Synchro Monsters in Starstrike Blast, Hidden Arsenal 4: Trishula's Triumph, Hidden Arsenal 3, or the upcoming Hidden Arsenal Special Edition. Each Synchro Monster features a Roman-themed Dragunity Winged Beast riding into battle atop a gigantic dragon! These Synchro Monsters give access to sweet new moves you can only pull off with Dragunity Synchro Monsters!
Each Saturday morning in the United States Duelists can catch TV episodes of the original Yu-Gi-Oh! series, along with the new Yu-Gi-Oh! 5D's series, on TheCW4Kids block. For more information on Konami, the Yu-Gi-Oh! Championship Series or the Yu-Gi-Oh! TRADING CARD GAME, please visit www.yugioh-card.com or call 310-220-8630.