Pojo's Yu-Gi-Oh News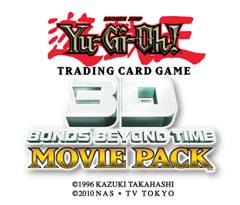 COMING SOON TO A STORE NEAR YOU – Yu-Gi-Oh! 3D: BONDS BEYOND TIME MOVIE PACK!

NEW RELEASE FROM TRADING CARD GAME POWERHOUSE

KONAMI DIGITAL ENTERTAINMENT IN SUPPORT OF MOTION PICTURE

El Segundo, CA (February 17, 2011) – Call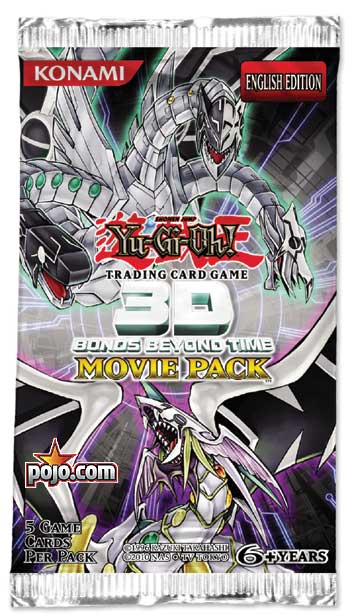 your friends, microwave some popcorn and get set to Duel with the Yu-Gi-Oh! 3D: Bonds Beyond Time Movie Pack! This movie pack releases February 22nd in advance of the United State's debut of the second Yu-Gi-Oh! feature film, Yu-Gi-Oh! 3D: Bonds Beyond Time Movie.
The Yu-Gi-Oh! 3D: Bonds Beyond Time Movie Pack closely follows the movie theme in which a sinister Duelist is collecting the most powerful monsters from throughout history and can only be stopped if the heroes of all three Yu-Gi-Oh! animated series, Yugi, Jaden and Yusei, join forces. Sure to get a four-star review from fans, this special pack (MSRP $4.99), includes the warped and twisted "Malefic" monsters, used by the movie's time-traveling villain. Each film pack includes five random Limited Edition Secret Rare cards from the movie.
This is the only chance for Duelists to add "Malefic Paradox Dragon" to their Decks, a monster that can turn an opponent's own Synchro Monster against them! Duelists can also find the twisted Malefic versions of many classic monsters including "Blue-Eyes White Dragon" and "Cyber End Dragon".
Each Saturday morning in the United States, Duelists can catch one classic TV episode, along with two additional TV episodes from the Yu-Gi-Oh! 5D's animated series, on TheCW4Kids block. For more information on Konami or the Yu-Gi-Oh! TRADING CARD GAME, please visit www.yugioh-card.com or call 310-220-8630.