Pojo's Yu-Gi-Oh News
<![if !vml]>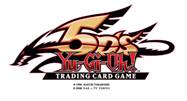 <![endif]>
KONAMI DIGITAL ENTERTAINMENT STRENGTHENS ITS HAND WITH THE INTRODUCTION OF A LEGION OF Yu-Gi-Oh! TRADING CARD GAME PRODUCTS AT AMERICAN INTERNATIONAL TOY FAIR
Company to Showcase Products for First Half of 2011
EL SEGUNDO, CA (February 10, 2011) – Fresh off a successful 2010 holiday season, Konami Digital Entertainment, Inc. (Konami) is poised to further strengthen its position in 2011 with a series of new Yu-Gi-Oh! TRADING CARD GAME (TCG) releases. Announced today, these products will be showcased in the Konami Booth #5423 (Hall 1) at the American International Toy Fair to be held at the Jacob K. Javits Convention Center in New York City from February 13-16
"The Yu-Gi-Oh! TRADING CARD GAME has been a cornerstone of our business. We strive to continually add meaningful content to each of our new product releases. From the budding Duelist and the competitive level player to our hobby and mass market retail partners, we are confident that this year's product line-up will satisfy everyone and position us for another very successful year," said Yumi Hoashi, vice president, Card Business for Konami Digital Entertainment, Inc.
Debuting in late February, Yu-Gi-Oh! 3D: Bonds Beyond Time portrays a sinister Duelist who is collecting the most powerful monsters from throughout history and can only be stopped if the heroes of all three Yu-Gi-Oh! animated series: Yugi, Jaden and Yusei join forces. To celebrate this second Yu-Gi-Oh! feature film, Yu-Gi-Oh! 3D: Bonds Beyond Time Movie Pack releases February 22. This special pack (MSRP $4.99), closely follows the movie theme and includes the warped and twisted "Malefic" monsters, used by the movie's time-traveling villain. Each pack includes five random Secret Rare cards from the movie.
Coming in like a lion, on March 8, Structure Deck: Dragunity Legion unleashes its brand new monster theme combining Celtic Dragons with Winged Beasts from ancient Rome. Highly disciplined and militaristic, Dragunity Decks work because the bigger Dragunity monsters can wield the smaller ones as living weapons! Structure Deck: Dragunity Legion (MSRP $9.99) is a great platform for Duelists of any skill level to build a Dragunity Deck for themselves. The set also includes five brand-new cards unavailable anywhere else.
On the heels of this month's (February) launch of the Storm of Ragnarok booster set, March 22 is the release of Storm of Ragnarok Special Edition. Eagerly anticipated by fans for its great value (MSRP: $9.99), this box offers a second chance for glory, with three booster packs of Storm of Ragnarok plus one of two Super Rare variant cards: Light and Darkness Dragon or Hand of the Six Samurai.
To kick-off the second quarter, the 2011 Duelist Pack Collection Tin will be available on April 5. These cool black-tinted mini-tins commemorate Yusei's battles against the villainous Dark Signers on the Yu-Gi-Oh! 5D's animated series. Duelists looking to collect some of Yusei's favorite monsters, Spells, and Traps can recreate his game-winning strategies from TV with these collectible Tins. Each Tin (MSRP: $9.99) includes three packs of Duelist Pack: Yusei 3 and one pack of Duelist Revolution. Additionally, to represent the forces of darkness, each Tin also includes four Synchro Monsters used by Yusei's adversaries, the Dark Signers. Three of these are Super Rare reprints of hard-to-find Synchro Monsters previously released. The fourth is a brand new, Secret Rare Synchro Monster, never before seen!
Just in time for Easter shoppers, a third mighty Dragon of the Ice Barrier will be unleashed with the introduction of Trishula, Dragon of the Ice Barrier in Hidden Arsenal 4: Trishula's Triumph on April 19. The all-foil set includes 60 brand-new monsters including the super-powered Dragon Trishula, who's a great addition to any Deck. Hidden Arsenal 4 (MSRP: $3.99) also contains ten Dragunity monsters, including two Dragunity Synchro Monsters, making it a perfect match with Structure Deck: Dragunity Legion.
May is a Duelist's fantasy as three new products hit store shelves, beginning with the pitting of the ultimate Synchro Monsters against the ultimate anti-Synchros in the Extreme Victory booster set (MSRP $3.99) May 10. Extreme Victory takes Synchro Monsters to their ultimate extreme, with the new T.G. (Tech Genus) monsters. T.G. Decks are specially designed to crank out Synchro Monsters at a fast and furious pace. And they can do it repeatedly. Duelists can also put the smackdown by utilizing Meklords, a vast army of extremely hungry Synchro-destroying machines. When they see a Synchro Monster, Meklords simply devour it and use its powers for themselves! This set also includes new cards for many popular championship Decks, including Gladiator Beasts, Blackwings, Six Samurai and more. It's the set for Duelists who don't just want a victory – they want an Extreme Victory!
With all those new cards, Duelists will want to protect and show off their bounty! The Yugi & Slifer Card Sleeves (MSRP $3.99) available May 24 will help them do just that. These new high-quality card sleeves celebrate the groundbreaking Battle City storyline, by pairing-up Yugi with his first Egyptian God Card: Slifer the Sky Dragon! Battle City remains one of the most popular Yu-Gi-Oh! storylines ever created, so fans old and new will want to grab these Egyptian God Card sleeves while they last.
Rounding out the month of May with a bang, and with a sneak peek of things to come, is the 2011 Starter Deck. With a new Yu-Gi-Oh! animated series on the horizon, which introduces an all new kind of monster, fans will be sure to hurry to stores on May 31 to get these revolutionary monsters that make their North American debut in the 2011 Starter Deck (and in advance of August's booster set featuring the new monsters). Serving two roles, the 2011 Starter Deck is designed to teach new players the ins & outs of the Yu-Gi-Oh! TCG and to teach current players about this brand new category of monsters (MSRP: $9.99)!
The last release of Q2 will help to positively position Duelists for awesome battles with Duelist Pack: Crow, the first 5D's Duelist Pack to focus on the a character other than Yusei Fudo. Blackwing Decks have been one of the most popular Decks in North America for two years running, and available on June 6, Duelist Pack: Crow (MSRP: $1.99) is the best way for everyone to jump on board the Blackwing bandwagon! This 30-card set features reprints of 25 of Crow's most powerful Blackwing monsters, Spells, and Traps and it also has five brand-new Blackwing cards. Even experienced Blackwing champions will want to get these new cards for their Deck!
Keeping the millions of Duelists entertained and engaged during the summer months will be easy, as Konami has two releases set for July. First is the introduction of Hidden Arsenal Special Edition on July 12 (MSRP: $9.99), which gives Duelists another chance at the first three Hidden Arsenal releases; jam packed into one epic product! Each Special Edition will also include one of two Variant Cards of a highly sought-after key card from the Hidden Arsenal monster themes. This is an ideal product for Duelists who haven't checked out Hidden Arsenal boosters yet and want to give them a shot, or for those who missed these packs the first time around.
On July 26, let the heavens open and the celestial fury of the planets themselves be unleashed with Structure Deck: Lost Sanctuary (MSRP: $9.99). This Deck gives Duelists control over the embodiments of the planets Mercury, Venus, Earth, Mars, Jupiter, and Saturn – plus the Sun itself! This 40-card, ready-to-play Deck is for Duelists who already know how to play, but are looking for a springboard to build a Deck of their own. (And also appeals to anybody looking for some good, clean planet-tossing fun.)