Pojo's Yu-Gi-Oh News
<![if !vml]>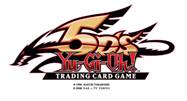 <![endif]>
KONAMI DIGITAL ENTERTAINMENT ANNOUNCES PLANS FOR A 2011
Yu-Gi-Oh! TRADING CARD GAME MALL TOUR
10-CITY TOUR GIVES FANS A CHANCE TO LEARN HOW TO PLAY THE BEST-SELLING TRADING CARD GAME OF ALL TIME!
El Segundo, CA (January 31, 2011) – Konami Digital Entertainment, Inc. (Konami), the makers of the best-selling trading card game of all time, announced today that the company will launch a ten-city mall tour on February 12th. Fans, young and old, are encouraged to stop by and learn to play the Yu-Gi-Oh! TRADING CARD GAME (TCG), discover the exciting world of Yugi, Jaden and Yusei, use Spells and Traps, Summon monsters and much more!
Running from February 12th to March 13th, at each mall stop, attendees not familiar with the game will have an opportunity to participate in a hands-on demonstration of how to play the game and ask questions. Attendees will also get a chance to play a game with one of the Yu-Gi-Oh! TCG experts. Using a specially designed demo pack and guide, the Yu-Gi-Oh! specialists will expertly teach the basics of the game to aspiring Duelists. Each attendee will walk away with a demo pack and guide to continue the fun at home with friends!
Also, advanced players who just want to stop by and be a part of the excitement can Duel at their leisure on a series of tables available for casual Dueling.
"This is a great way for us to reach out to a new audience and to satisfy our avid fans," Yumi Hoashi, Vice President of the Konami Card Business said of the mall tour. "The face-to-face interaction is a perfect way to introduce the game to budding Duelists around the country. And, once they learn the basics of the game at the tour, they can continue to play and develop their skills at one of our Official Tournament stores in their area."
Additionally, Yu-Gi-Oh! trivia buffs can show-off their prowess and win packs during Yu-Gi-Oh! Trivia contests held throughout the day.
The Yu-Gi-Oh! TRADING CARD GAME Mall Tour will run every weekend at a Simon Mall (www.simon.com) from noon- 6:00 pm through March 12th in the following cities:
New York, NY
February 12th Lake Grove, NY Smith Haven Mall
February 13th White Plains, NY Galleria at White Plains
Philadelphia, PA
February 19th Toms River, NJ Ocean County Mall
February 20th Philadelphia, PA Franklin Mills
Chicago, IL
February 26th Gurnee, IL Gurnee Mills
February 27th Orland Park, IL Orland Square
Houston, TX
March 5th Katy, TX Katy Mills
March 6th Houston, TX Houston Galleria
Tampa/St. Pete, FL
March 12th St. Petersburg, FL Tyrone Square
March 13th Port Richey, FL Gulf View