Pojo's Yu-Gi-Oh News
Yu-Gi-Oh! 3D: BONDS BEYOND TIME MOVIE PREMIER

By Satanic Goku
Yu-Gi-Oh! 3D: Bonds Beyond Time premiered on Wednesday Feb. 23rd and marks the 10th anniversary of the Yu-Gi-Oh! Series. It features the star protagonists from each season. The movie was originally released in Japan on January 23, 2010- and like most good things we got it about a year later.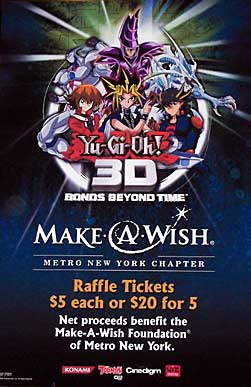 Movie summary:

To keep it brief with not too much spoiling:

Buildings will crumble, innocent lives will be lost, monsters will disappear and kuriboh will save the world!

The movie starts with a quick review of all 3 series of Yu-Gi-Oh! The movie picks up like it was directed by Michael Bay- EXPLOSIONS! And leads to a tremendous situation in which all hope is gone! To prevent certain Armageddon the main characters see no other solution but to duel!

Everything else:

The premiere had the works: red carpet, flash photography, and excited fans.

It wasn't just a movie showing, but also a raffle (in which the proceeds went to the "make a wish foundation"), costume contest, Konami Yu-Gi-Oh! Trading Card Game demo tables, and signings from some of the voice actors from the movie.

Right away I received my ticket and a Shonen Jump Manga with a promo "Malefic Red Eyes Dragon" card. Upstairs stood three voice actors from the movie: Dan Green (Yugi Mutou/Yami Yugi), Sean Schemmel (Paradox, and also a little show called Dragon Ball/Z - Goku, King Kai), and Darren Dunstan (Maximillion Pegasus). Even though I was early, premature lines of anxious fans had already begun.

The costume contestants included: children not quite following the Yu-Gi-Oh! theme, a kid in full blown duct tape and paper looking similar to Yusei, and a really good Kaiba- whom won the contest.

After the showing people were signing there lives away to be in a commercial about how AMAZING the film was.

Overall, good movie, good fun, and free popcorn.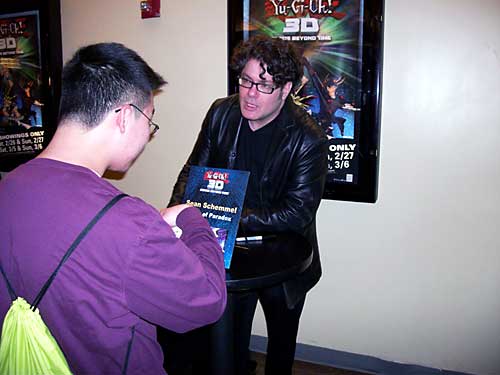 Sean Schemmel - Voice of Paradox (& Goku)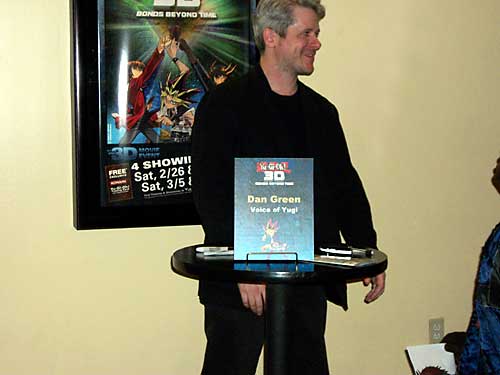 Dan Green - Voice of Yugi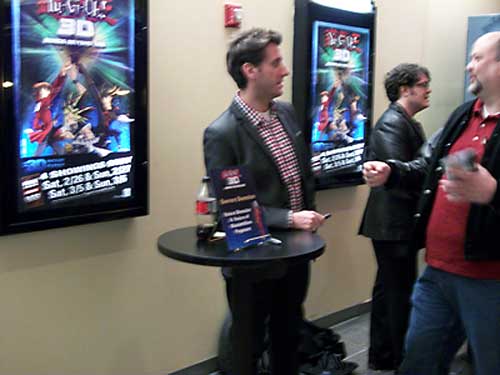 Darren Dunstan - Voice of Pegasus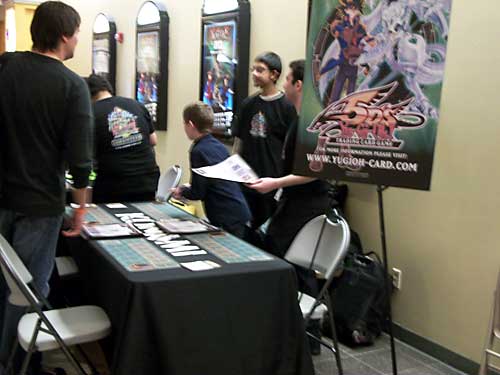 TCG Demos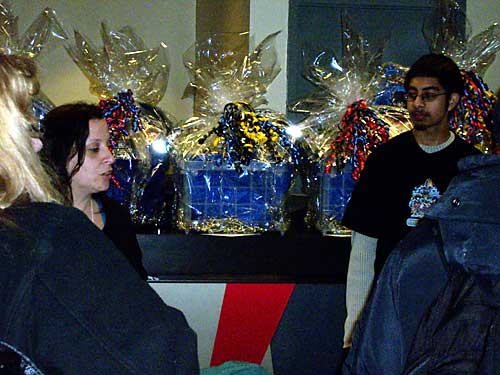 Make A Wish Raffle