Pojo's Yu-Gi-Oh News
<![if !vml]>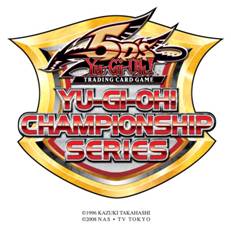 <![endif]>
KONAMI DIGITAL ENTERTAINMENT DECLARES PHILADELPHIA THE NEXT STOP FOR GLOBAL
Yu-Gi-Oh! CHAMPIONSHIP SERIES OCTOBER 9-10
Yu-Gi-Oh! Championship Series Continues World Tour
EL SEGUNDO, CA (September 30, 2010) – Nestled among cobbled streets and the Liberty Bell, a new round of battles will ensue at the Pennsylvania Convention Center when Konami Digital Entertainment, Inc. (Konami) brings its wildly successful Yu-Gi-Oh! Championship Series (YCS) to historic Philadelphia. More than 1,000 players are expected to Duel for fantastic prizes at this premier-level Yu-Gi-Oh! TRADING CARD GAME (TCG) event.
The YCS will be held at the Pennsylvania Convention Center on October 9th – October 10th. Pre-registration will run from 3:00 – 7:00 p.m. Friday, October 8th and restart promptly at 8:00 a.m. on Saturday, October 9th. Round One will begin at 10:00 a.m. The Top 16 YCS finishers, along with the top Duelists of the Sunday Regional Qualifiers, earn invitations to participate in their respective 2011 World Championship Qualifier events, to be held next year.
Event Address:
Pennsylvania Convention Center
1101 Arch Street
Ballroom AB
Philadelphia, PA 19107
Duelists, upon paying their registration fee, will receive five Duelist Revolution booster packs just for participating in Konami's Yu-Gi-Oh! Championship Series.
In addition to the main event, weekend activities include Public Events such as Regional Qualifiers, Tin Challenges, ATTACK OF THE GIANT CARD!!, Win-A-Mat, Dragon Duel and a tournament for the video game, Yu-Gi-Oh! 5D's World Championship 2010 Reverse of Arcadia. The top Duelist in the video game tournament will get ten booster packs of the recently released Duelist Revolution!
Konami will award a set of the YCS prize cards to the main event winner, the two runners-up, and the winners of Sunday's Public Events playoffs. Each of these Duelists will receive one copy of each of the three YCS prize cards: Ultra Rare versions for the winner of the main event, and Super Rare copies for the others.
Prizing Information:
<![if !supportLists]> • <![endif]> 1st place – Set of Ultra Rare YCS Prize Cards; Trophy; Paid travel to their World Championship Qualifier (if underage, then winner and guardian) or a local-market YCS (flight and accommodations) if the Duelist has already won an earlier YCS in the current year; YCS Game Mat; Netbook plus 500 BoosterPass Points for Yu-Gi-Oh! Online Duel Accelerator; and an invite to their 2011 World Championship Qualifier
<![if !supportLists]> • <![endif]> 2nd place – Set of Super Rare YCS Prize Cards; iPad Wi-Fi 32 GB; Konami iPad game codes to be used on the iPad; YCS Game Mat; and an invite to their 2011 World Championship Qualifier
<![if !supportLists]> • <![endif]> 3rd place – Set of Super Rare YCS Prize Cards; 32GB iPod Touch; Konami iPhone game codes to be used on the iPod Touch; YCS Game Mat; and an invite to their 2011 World Championship Qualifier
<![if !supportLists]> • <![endif]> 4th place –32GB iPod Touch; Konami iPhone game codes to be used on the iPod Touch; YCS Game Mat; and an invite to their 2011 World Championship Qualifier
<![if !supportLists]> • <![endif]> 5th – 8th place – DSi XL with Yu-Gi-Oh! 5D's World Championship 2010 Reverse of Arcadia ; YCS Game Mat; and an invite to their 2011 World Championship Qualifier
<![if !supportLists]> • <![endif]> 9th – 16th place – 24 booster packs of Duelist Revolution; Yu-Gi-Oh! 5D's World Championship 2010 Reverse of Arcadia; YCS Game Mat; and an invite to their 2011 World Championship Qualifier
If attendance is more than 513 Duelists or more
<![if !supportLists]> • <![endif]> 17th – 32nd place – YCS Game Mat and an invite to their 2011 World Championship Qualifier