Pojo's Yu-Gi-Oh News
<![if !vml]>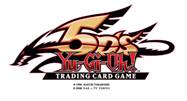 <![endif]>
Galileo De Obaldia and Arturo Oviedo CONQUER THE WORLD DURING KONAMI DIGITAL ENTERTAINMENT'S Yu-Gi-Oh! WORLD CHAMPIONSHIP
Champions Out-Duel Representatives from 18 Countries at Weekend-long Yu-Gi-Oh! TRADING CARD GAME and Video Game Extravaganza in Long Beach, California
EL SEGUNDO, CA. – (August 15, 2010) – After an amazing weekend-long Yu-Gi-Oh! World Championship event beset with dramatic Duels and roller coasters of emotions, Galileo De Obaldia from Panama, played his final card to defeat Vincent Paglia from Las Vegas, NV to become the Yu-Gi-Oh! TRADING CARD GAME (TCG) 2010 World Champion. Not to be out-dueled, Arturo Oviedo from Spain captured the coveted title of Yu-Gi-Oh! Video Game World Champion.
37 players, from 18 countries representing the world's best and brightest Yu-Gi-Oh! TRADING CARD GAME and Video Game players came to Long Beach, CA to battle for Konami Digital Entertainment's top Yu-Gi-Oh! honors of the year. After 12 months of tournaments and hundreds of Qualifying events across the globe, the greatest players brought high hopes and their best Yu-Gi-Oh! Decks and skills to Long Beach in a quest to be crowned 2010 World Champion.
Heading into the Final Round Sunday, all eyes were upon De Obaldia (21 years of age) and Paglia (age 18), as they brought their cards to the table. De Obaldia started with a Cold Wave card from his FROG One-Turn-Kill Deck and Paglia activated Royal Oppression and Mask of Restrict card from his Blackwing Deck. Well into the match, it was still unclear who was going to take home the top prize but in the final minutes it was Galileo De Obaldia's unwavering skill and strategy that helped him to prevail and to capture the title of 2010 World Champion..
The Yu-Gi-Oh! Video Game World Championship was also held at the same time pitting world-class Duelists from around the globe on the center stage. Competitors have battled for months, to make it to the World Championship event, with only twelve players skilled enough to earn a trip to the Championship. After seven rounds of playing Yu-Gi-Oh! 5D's World Championship 2010: Reverse of Arcadia it was Oviedo that proved to possess the unwavering skills and strategic moves that lead him down the winning path and ultimately to be crowned the Video Game 2010 World Champion.