Pojo's Yu-Gi-Oh News
FOR IMMEDIATE RELEASE
Yu-Gi-Oh! 5D's TRADING CARD GAME ABSOLUTE POWERFORCE SPECIAL EDITION
AVAILABLE NATIONWIDE MARCH 30th
Special Edition Features Red-Eyes Darkness Metal Dragon and Dandylion
El Segundo, CA (March 10, 2010) – Konami Digital Entertainment, Inc. (KDE) today announced it will release Absolute Powerforce Special Edition with Super Rare copies of Dandylion and Red-Eyes Darkness Metal Dragon to retail and hobby outlets on March 30.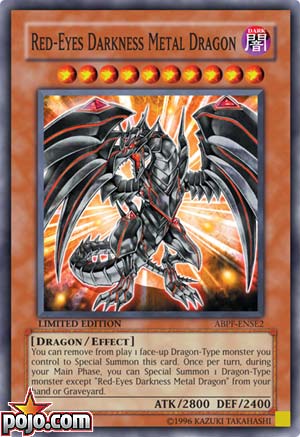 The Absolute Powerforce Special Edition (MSRP $9.99 per box) includes three Absolute Powerforce booster packs and one Super Rare variant card. Absolute Powerforce Special Edition makes it easy for Duelists to get their own Super Rare copies of Dandylion and Red-Eyes Darkness Metal Dragon. These popular monsters have only been available as magazine subscription promotional cards, and have never been available in stores – until now!
The hyper-cute Plant monster, Dandylion first appeared in Jaden's Deck on the Yu-Gi-Oh! GX animated series. The power of Dandylion creates Fluff Tokens whenever it goes to the Graveyard – which any Duelist can use to Summon even stronger monsters. Until recently, Dandylion was considered so powerful that it was a Limited Card, so only one copy per Deck was allowed. However, beginning on March 1, restrictions on Dandylion were eased slightly, and now two copies are allowed. Veteran Duelists who use Decks like Monarchs or Plants are already making plans for their second Dandylion but Dandylion is so versatile that it works well in many Decks.
Red-Eyes Darkness Metal Dragon is the latest massive behemoth in a long and proud tradition of "Red-Eyes" Dragon monsters, and is the cornerstone of today's Dragon Decks! The power of this Dragon comes from its ability to be Summoned easily, and then Summon other Dragons just as easily. A powerful force on its own, this titan of terror can quickly build up an entire Dragon army. A must-have card for any fan of the many fantastic Dragons in the Yu-Gi-Oh! TRADING CARD GAME!
In addition to one of these two variant cards, each Absolute Powerforce Special Edition includes three packs of the namesake booster set. Five unbelievable Synchro Monsters anchor the Absolute Powerforce 100-card set, including new trump cards used by Yusei and Jack, as well as the amazing new Sun & Moon Dragons of Rex Goodwin. Absolute Powerforce also includes a brand new X-Saber Synchro Monster and as an added bonus for long-time Duelists, The Gravekeepers return – having first debuted in 2003.