Pojo's Yu-Gi-Oh News
<![if !vml]>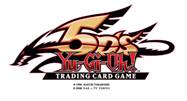 <![endif]>
TURN THE TIDE OF BATTLE WITH THE LATEST
Yu-Gi-Oh! TRADING CARD GAME BOOSTER SET RELEASE HIDDEN ARSENAL 3
Hidden Arsenal 3 is the Latest All-monster All-foil Booster Set
El Segundo, CA (November 18, 2010) – Loaded for Dueling, Hidden Arsenal 3, from Konami Digital Entertainment, Inc. (Konami) – th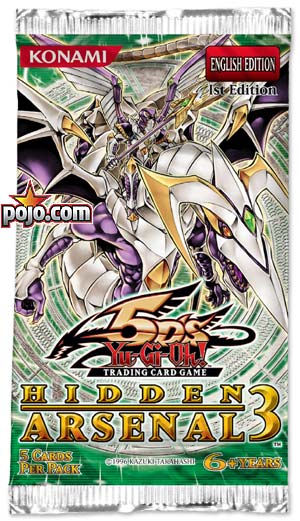 e manufacturer of the legendary Yu-Gi-Oh! TRADING CARD GAME (TCG) – brings the house down with a strong mix of monsters that work well in any Deck, plus specialized monsters that empower the creation of exciting new Deck themes!
The Konami TCG experts are unleashing their new Dragunity Monsters for the Dueling public. The team has perfectly blended a mighty monster clan of Celtic Dragons with Winged Beasts from ancient Rome. This combination breeds a fierce new unity of dragons with birds of prey. Duelists looking to pick up more Dragunity monsters can find them in the previously released Starstrike Blast!
Hidden Arsenal 3 unleashes Gungnir, Dragon of the Ice Barrier, which is just the tip of an iceberg full of new Ice Barrier monsters. Gungnir is the bigger brother of Hidden Arsenal's Brionac, bringing 2500 ATK points to the table and destroying up to two opponent's cards every turn.
Any good Duelist knows that sometimes the best defense is a good offense, and Ally of Justice Decisive Armor delivers. It's a Duelists' best weapon against LIGHT monsters. Created with a 3300 ATK, this Synchro Monster can be Summoned using any Synchro Material Monster, and can employ three devastating effects if your opponent controls a LIGHT monster.
Shutting down Trap Cards just got easier with Hidden Arsenal 3's new Naturia monsters, like Naturia Barkion, a 2500 ATK Synchro Monster.
And sitting at the end of the alphabet, Worm Zero is the 26th and final "Worm" Reptile. The more "Worm" monsters you use for the Fusion Summon of this card, the more powers it gets.
The 60-card set of Hidden Arsenal 3 arrives at hobby and retail stores nationwide December 7 for an approximate retail price of $3.99 for each five-card foil pack. Each pack includes one Secret Rare and four Super Rares.
The Yu-Gi-Oh! 5D's animated series can be seen in the United States on Saturday mornings on TheCW4Kids block. For more information on Konami, the Yu-Gi-Oh! TRADING CARD GAME or the Hidden Arsenal 3 booster set, please visit www.yugioh-card.com or call 310-220-8630.