Pojo's Yu-Gi-Oh News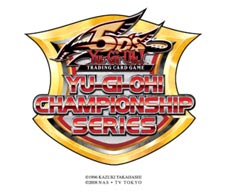 JONATHAN SEBASTIAN VAZQUEZ HERRERA CLAIMS CHAMPION TITLE AT PREMIERE KONAMI DIGITAL ENTERTAINMENT Yu-Gi-Oh! CHAMPIONSHIP SERIES IN MEXICO CITY
MEXICO CITY, MX (November 17, 2010) – Beating out an elite group of players, it was Jonathan Sebastian Vazquez Herrera from Mexico D.F, Mexico that out-Dueled his peers to capture the title of Champion this past weekend as Konami Digital Entertainment, Inc. (Konami) hosted the first-ever Yu-Gi-Oh! Championship Series (YCS) event held in Latin America.
Following the successful debut of this flagship event earlier this year throughout Canada, Europe, and the United States, 839 Duelists spent two days at the Expo-Reforma at this premier Yu-Gi-Oh! TRADING CARD GAME (TCG) matching their skills against each other for a chance to receive amazing prize cards and earn the title of YCS Champion.
After a weekend-long series of preliminary rounds, it was Jonathan Sebastian Vazquez Herrera that found himself facing Brandon Ossiel Aguilar Gonzalez of Pachuca, in the state of Hidalgo, Mexico in the Finals. As both players brought their best tried-and-true Decks to the table, Vazquez Herrera and his impressive X-Saber Deck battled against Aguilar Gonzalez and his Blackwing Deck. The crowd swelled and all eyes were upon them as the Duels played out. It was only after a tense series of attacks and Summons that Vazquez Herrera triumphed over Aguilar Gonzalez.
Jonathan Sebastian Vazquez Herrera earned an exciting prize package that included a set of Ultra Rare YCS Prize Cards, an exclusive YCS Game Mat, a netbook computer, a paid trip to his 2011 World Championship Qualifier, and more!
For more information on Konami, Yu-Gi-Oh! TRADING CARD GAME or the Yu-Gi-Oh! Championship Series, please visit www.yugioh-card.com.