Pojo's Yu-Gi-Oh News
<![if !vml]>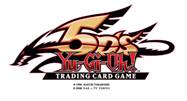 <![endif]>
EMBRACE THE DRAGONS' MIGHT IN THE NEW Yu-Gi-Oh! TRADING CARD GAME COLLECTIBLE TINS
Second Wave of 2010 COLLECTIBLE TINS Available for Holiday Season
El Segundo, CA (October 19, 2010) – Releasing on November 2nd, two new Yu-Gi-Oh! TRADING CARD GAME (TCG) 2010 Collectible Tins feature upgraded versions of already powerful Synchro Monsters, making these tins a coveted item this season. This potent assortment of extraordinary cards, packaged in a uniquely designed tin, makes for an ideal way to store Decks, cards, and anything else for safekeeping. These two new tins complete the five-tin set offered by Konami Digital Entertainment, Inc. (Konami) this year.
Each tin includes a Secret Rare variant card of the monster depicted on the tin, along with four additional Super Rare variant cards, plus five booster packs – one pack of Hidden Arsenal or Stardust Overdrive, one pack each of Absolute Powerforce and Duelist Revolution, and two packs of The Shining Darkness.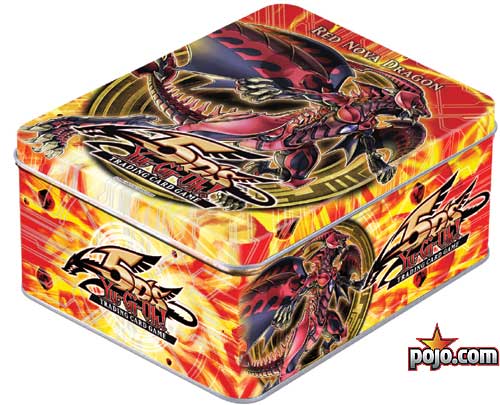 The cosmic Shooting Star Dragon tin illuminates the void of deep space. Yusei's famous Stardust Dragon gets an upgrade as Shooting Star Dragon. This Level 10 Synchro Monster has 3300 ATK and three key abilities. If you want to, you can even use all three abilities in the same turn! Shooting Star Dragon can stop your opponent's cards from destroying your monsters, stop your opponent's attacks, or even attack several times in the same turn (if you have some Tuner monsters hanging out near the top of your Deck)! In addition to five packs and a Secret Rare version of the Shooting Star Dragon card, this tin includes Elemental Hero Ocean and three other Super Rare cards.
The Red Nova Dragon tin glows a fiery red with all the intensity of an exploding star! As an upgraded version of another Synchro Monster, Red Dragon Archfiend, the Red Nova Dragon is so powerful that in order to Summon it, you'll need TWO Tuner monsters to combine with your Red Dragon Archfiend. But all that work is worth it, because it hits the field with 4500 Attack Points – or more – and cannot be destroyed by your opponent's cards. Red Nova Dragon can even protect your weaker monsters by stopping your opponent from attacking them. This tin comes with five packs, a Red Nova Dragon Secret Rare card, along with Red Dragon Archfiend and three other Super Rare variant cards.