Pojo's Yu-Gi-Oh News
<![if !vml]>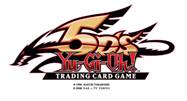 <![endif]>
STRUCTURE DECK: MARIK LETS DUELISTS CELEBRATE
THE GLORY OF BATTLE CITY, IN THE LATEST Yu-Gi-Oh! TRADING CARD GAME RELEASE
Deck Includes Many Cards Made Famous in the Original Yu-Gi-Oh! Television Series
EL SEGUNDO, CA – (October 11, 2010) – From the windswept deserts of Ancient Egypt to the streets of Battle City comes the next highly-anticipated Yu-Gi-Oh! TRADING CARD GAME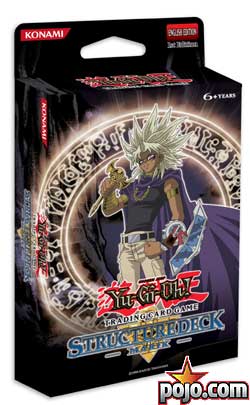 Structure Deck from Konami Digital Entertainment, Inc. (Konami), Structure Deck: Marik. Ready for action right out of the box, Structure Deck: Marik contains a 40-card tournament-legal Deck plus two additional Ultra Rare cards for collectors: Temple of the Kings and Mystical Beast of Serket!
Structure Deck: Marik unites the incredible forces of the Tomb Keepers and Rare Hunters into one single powerful Deck. The new Deck is modeled after Marik's in the original groundbreaking Yu-Gi-Oh! animated series! Structure Deck: Marik features a 40-card, tournament legal Deck with classic cards such as Lava Golem, Gil Garth, Legendary Fiend, Metal Reflect Slime, and Mirror Force! Structure Deck: Marik (MSPR $9.99) will be available at retail and hobby locations nationwide beginning October 19.
And for Duelists looking to add an additional gem to their collection, Marik's favorite monster – The Winged Dragon of Ra – can be found in the just-released Legendary Collection!
Product Breakdown:
39 Common Cards
Three Ultra Rare Cards
One Rulebook
One Game Mat
One Dueling Guide