Upper Deck Announces
Upper Deck Day
Special Organized Play Event with Tournaments for
Every Upper Deck Brand
Gold Sarcophagus Up for Grabs!
Free Huntik Trading Card Game Sneak Preview!
Free World of Warcraft Trading Card Game Beginners Tournaments
North Las Vegas, NV (January 14, 2009) — Upper Deck announced today a special Organized Play event that will offer a tournament for every gamer! From anime to MMOs, no matter what you're into, Upper Deck Day has the tournament for you! Upper Deck Day will take place at locations throughout North America on February 7 – 8, 2009 and will feature great events for the Yu-Gi-Oh! TRADING CARD GAME, the Huntik: Secrets & Seekers Trading Card Game and the World of Warcraft Trading Card Game. Visit UDE.com for more information!
The Yu-Gi-Oh! TRADING CARD GAME "Duelist Challenge"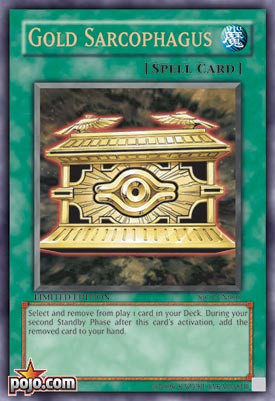 will feature high caliber dueling and the most prizes ever offered at a Yu-Gi-Oh! TCG event! The top three finishers at each location will receive a highly-valuable prize card, and the winner will take home a Gold Sarcophagus! Plus, all top finishers will walk away with an entire box of product! Additional prizes include rare Yu-Gi-Oh! TCG play mats, t-shirts and other promos. Duelists also have a chance to receive promo cards and other great prizes throughout the weekend.
Upper Deck Day will also host the first ever Huntik: Secrets & Seekers TCG Sneak Preview. This event is free and open to anyone interested in getting a head start on this great new game! The Huntik: Secrets & Seekers TCG is based on the new animated series that recently debuted on the CW4Kids Network to high acclaim. The Trading Card Game launches on February 17th, but players can get a sneak peek at this engaging game of missions and strategy at Upper Deck Day. Demos will be offered on site, and players can also visit Huntik.com for an online tutorial. During Upper Deck Day, every player will walk away with their own Starter Deck, unleashing their Titans into the world! Visit Huntik.com for more details on this new action-packed brand!
No gaming event would be complete without the World of Warcraft. In addition to all the animated excitement, Upper Deck Day will also feature both the World of Warcraft Trading Card Game and the World of Warcraft Miniatures Game. All gamers are invited to enter the free TCG beginners event and learn first hand what all the buzz is about. The World of Warcraft TCG brings the action of the online game to the table top, with all the same strategy and action in the cards! Players can earn booster packs and start building their own World of Warcraft TCG collection with their free Starter Decks. Door prizes will also be given out all weekend. Visit WoWTCG.com to learn more!
Amongst all the excitement, make sure to schedule time for a World of Warcraft Miniatures Game demo. Featuring high-quality, incredibly detailed figures, the World of Warcraft Miniatures are perfect for every gamer. The game offers unique game play that closely mirrors the action and strategy of the online game, plus the figures themselves feature amazingly detailed interpretations of some fan-favorite World of Warcraft races and classes. Check out WoWMinis.com to see for yourself!
Don't miss out on this amazing opportunity for gaming, prizes and more with Upper Deck Day. Visit UDE.com to find a location near you!