<![if !vml]>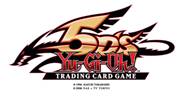 <![endif]>
Rev It Up with Konami Digital Entertainment Inc.'s Yu-Gi-Oh! 5D's TRADING CARD GAME STARTER DECK
Deck Includes Cards Never Before Released in North America
El Segundo, CA – (June 9, 2009) – The competition has just shifted into overdrive with the release of the Yu-Gi-Oh! TRADING CARD GAME (TCG) 2009 Starter Deck, from Konami Digital Entertainment, Inc. (KDE).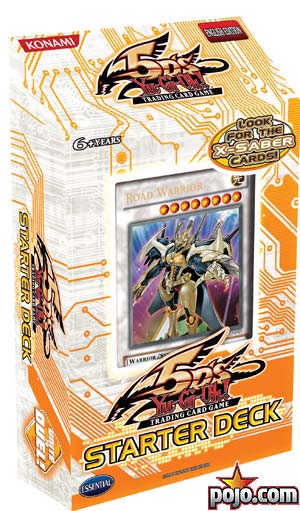 Comprised of a mix of common and opponent-crushing foil cards, the 2009 Starter Deck is the latest release of the #1 trading card game in the world, now available at hobby and retail stores nationwide.
Containing the highly sought-after X-Saber monsters, previously available only in Japan through the Yu-Gi-Oh! 5D's Duel Terminal, the 2009 Starter Deck will deliver the excitement and action needed to knock out any opponent. Each 2009 Starter Deck consists of everything a Duelist needs to play – a complete 40-card Deck, three additional Synchro Monster cards, a Beginner's Guide and a Game Mat – all for approximately $9.99. To prepare Duelists for the upcoming X-Saber monsters in Ancient Prophecy, the 2009 Starter Deck contains 5 X-Saber cards including the powerful "X-Saber Airbellum." Also included, are "Road Warrior" and "Road Synchron" from the Yu-Gi-Oh! 5D's anime.

"The 2009 Starter Deck is perfect for both those players looking to increase the strength of their current Decks and for players just getting into the game," said Kevin Tewart, Senior Research & Development Manager for Konami Digital Entertainment, Inc. "For the more competitive player, the inclusion of 'X-Saber Airbellum' is a crucial addition. As a Tuner, you can use him to Synchro Summon, he has high Attack Points, and he's a Beast-Type monster so he works with cards like "Rescue Cat."
"For kids watching the Yu-Gi Oh! 5D's animated series, airing Saturday mornings on the CW 4Kids Network and now Monday through Saturday on Cartoon Network, they will recognize monsters and cards such as "Road Warrior" and can easily learn how to play the game as the Beginner's Guide helps to explain the basics of game play and has tips on how to build an even stronger Deck," added Tewart.