Pojo's Yugioh News
Yu-Gi-Oh! 5D's Stardust Accelerator World Championship Tournament 2009 will be hitting stores on May 19th.
May 8, 2009 - Stardust Accelerator is the next and most complete installment in the World Championship series. Exclusive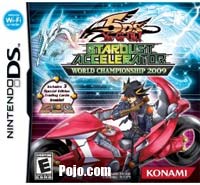 to the Nintendo DS, Stardust Accelerator has been updated and expanded to provide more than 2,800 playable 5D's cards in 3D environments. Players can choose to travel through 5D's Story Mode to duel in fun mini games with characters from the all new TV animation, collect cards and compete in multiple battles, including Turbo Duel racing. Also included, the all new World Championship Mode where players can polish their trading card game strategies and tactics in single player battles or multiplayer duels via Wi-Fi connect.

Product Features
Includes cards from the latest booster pack, "Crimson Crisis"

Featuring 2,800 cards from Yu-Gi-Oh! 5D's, more cards than any other Yu-Gi-Oh! World Championship title

Includes 2 exciting modes of gameplay in one game, 5D's Story Mode and World Championship Mode

Battle in single player mode or against Yu-Gi-Oh! gamers around the world via Wi-Fi

Stunning 3D gameplay environments in the World Championship Mode

Game will include 3 exclusive Yu-Gi-Oh! trading cards.