<![if !vml]>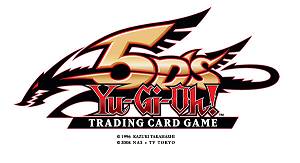 <![endif]>
Konami Digital Entertainment, Inc. Partners with Hobby Stores for Upcoming
Yu-Gi-Oh! TRADING CARD GAME Raging Battle Retailer Sneak Peek May 2nd-3rd
Mark your calendars! Konami Digital Entertainment, Inc. (KDE) is gearing up for its second Yu-Gi-Oh! 5D's TRADING CARD GAME (TCG) Sneak Peek event. Raging Battle (MSRP $3.99 per nine-card pack) will be released first at local hobby stores participating in the KDE Sneak Peek event on May 2nd and/or 3rd, depending on each store's preference. The Raging Battle booster set will be available nationwide on May 12th for hobby stores and major retailers not participating in the Sneak Peek event.

Raging Battle picks up where the previous booster set Crimson Crisis left off, with all-new Synchro Monsters, Spells, and Traps. Raging Battle introduces two new families of monsters. Foremost are the Earthbound Immortals – powerful, ancient monsters that are the focus of the current TV storyline. Also included are the new Koa'ki Meiru monsters, a new deck theme specifically designed to counter the most common tournament decks and strategies. Raging Battle also includes many cards used by fan favorites Yusei, Jack, and Leo from the Yu-Gi-Oh! 5D's animated series.
Criteria to become an official Konami Digital Entertainment, Inc. store:
Must have a physical location

Have sufficient space to hold tournaments, with seating for a minimum of 16 players

Provide one photo of the interior of your store, showing tournament space, and one photo of the exterior of your store, showing signage

Able to judge a Yu-Gi-Oh! event

Willing to provide detailed post-event reports and photos

Adhere to product sale dates, and sign a Konami Official Tournament Store agreement: All packs not used during the Sneak Peek can be sold by the store at full price (no earlier than May 12th).
Sneak Peek Kit includes:
Support for 16 players (five kit maximum order, additional kits require Konami special approval)

80 Raging Battle packs

16 Ultra Rare "Battlestorm" participation cards

Four Raging Battle deck boxes (awarded to second thru fourth place finishers and one to raffle off)
One Raging Battle game mat for the top player

16 scoresheets / information leaflets for players, with details about upcoming events

All packs not used during the Sneak Peek can be sold by the store at full price (no earlier than May 12th)