<![if !vml]>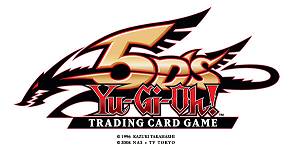 <![endif]>
Konami Digital Entertainment, Inc. Announces the
Return of the Yu-Gi-Oh! TRADING CARD GAME SHONEN JUMP Championships;
Premiere Event is scheduled for Anaheim's Convention Center April 25-26
Company Debuts New Ranking System COSSY, KDE Player I.D. Cards & Mystery Prize Card
El Segundo, CA – (April 10, 2009) – A new day is dawning in competitive Yu-Gi-Oh! TRADING CARD GAME (TCG) play. Konami Digital Entertainment, Inc. (KDE) is unveiling today their plans to bring back the SHONEN JUMP Championships, the largest and most prestigious Yu-Gi-Oh! TCG tournament series in North America. Adding a level of mystery to the event, a new Yu-Gi-Oh! 5D's SHONEN JUMP Championship prize card will be revealed for the first time.
KDE's SHONEN JUMP Championship series will begin April 25-26 in the "Big A" (Anaheim, CA) at the Anaheim Convention Center. Each registrant will receive their KDE "official" identification card at the event. The registration fee is $20, and each player will receive five booster packs just for participating.
"Duelists have patiently waited for Konami Digital Entertainment, Inc. to outline our plans for the Yu-Gi-Oh! TRADING CARD GAME SHONEN JUMP Championships and now we are," said Yumi Hoashi, Vice President of Card Business for Konami Digital Entertainment, Inc. "The SHONEN JUMP Championships, by their very nature, are created to be enjoyed by as many players as possible and are some of the most celebrated events we hold each year. Those who cannot make this SHONEN JUMP Championship can follow round-by-round coverage online at www.yugioh-card.com/en/events."
SHONEN JUMP Championship Anaheim details: The Anaheim Convention Center doors will open promptly at 8:00 a.m. for registration with Round One beginning at 10:00 a.m. The top 16 finalists for the SHONEN JUMP Championship along with the top 32 Duelists of the Sunday Regional will qualify to participate in the 2009 U.S. National Championship, which will be held later in the year.
Great family fun: The SHONEN JUMP Championship in Anaheim offers exciting Yu-Gi-Oh! TCG side events for moms, dads and brothers and sisters not in the main tournament. The side events for both Saturday and Sunday include Win-a-Mat events, a Team Dueling competition, and special events for Duelists under 13. There will also be a Regional Qualifier on Sunday.
SHONEN JUMP Championship prizes: Prizes include brand new Top 16 SJC game mats, Nintendo DSi™ units with Yu-Gi-Oh! 5D's Stardust Accelerator World Championship 2009, Wii™ units and Yu-Gi-Oh! 5D's Wheelie Breakers, a 32 GB iPod Touch installed with Konami Mobile Games, a paid trip to the U.S. National Championships, and a complimentary subscription to SHONEN JUMP magazine for the Top 16.
New Duelist Rankings: KDE has developed their own proprietary ranking system, called COSSY [Konami Card Game Official Tournament Support System], which will be used at the first SHONEN JUMP Championship in Anaheim. "By using COSSY in the first event it allows all players to start advancing up the rankings at the same time. New Duelists have just as much chance to rise in the rankings as veterans. This is the ranking system that is currently used in Japan," added KDE's Hoashi.
For more information on Konami Digital Entertainment, the Yu-Gi-Oh! TRADING CARD GAME or the SHONEN JUMP Championship series, please visit www.yugioh-card.com.