<![if !vml]>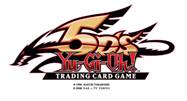 <![endif]>
KONAMI DIGITAL ENTERTAINMENT, INC. REVIVES Yu-Gi-Oh! TRADING CARD GAME DUELIST LEAGUE
League is for Duelists 14 and Under
EL SEGUNDO, CA. – (November 24, 2009) – Konami Digital Entertainment, Inc. (KDE) is bringing the fun and innovation of the Yu-Gi-Oh! 5D's TRADING CARD GAME (TCG) to Duelists 14 & under, in a special program just for them. The Duelist League, unveiled in August at Gen Con Indy, is a great way for players new to the Yu-Gi-Oh! TCG to hone their Dueling skills in an exciting, no-pressure environment.
The Duelist League is the perfect platform to draw new players to hobby stores and is a great opportunity to show new players (and their parents) how much fun can be had at an official event. The Duelist League enables first time Duelists and younger players to learn the nuances of the Yu-Gi-Oh! TCG in a supervised environment.
Here's how it works: Each Duelist League runs for a two-hour window at a time and day chosen by the shop owner. Entry costs just $5 and each participant is guaranteed to get a cool prize card for participating.
Each young Duelist receives three Duelist tickets at the start of the event, and engages in casual, open play against other players for the two-hour event. Each time a Duelist defeats another Duelist, they win a Duelist ticket from that player.
At any time during the Duelist League, a player with five Duelist Tickets can "cash out" of the tournament, picking a Prize Card of their choice.
At the end of the two hours, any remaining Duelists will pick their Prize Cards, starting with those who have four Duelist tickets and heading down toward those with the least. (Ties are broken in favor of the youngest Duelist!) Anyone during the event who runs out of Duelist tickets is done for the day, but immediately receives a Prize Card at random (instead of getting to choose).
The Duelist League is set up so that young players can learn each others' names, see a record of who they and their opponents have Dueled that day, play as many or as few Duels as they want, and get a cool prize card for their efforts.
Hobby stores looking to participate in the Yu-Gi-Oh! TCG Duelist League can send e-mails to us-opsupport@konami.com.
For more information on Konami Digital Entertainment, Inc., the Yu-Gi-Oh! TRADING CARD GAME or the Duelist League, please visit www.yugioh-card.com.